Whimsy Weddings: Rachel + Steven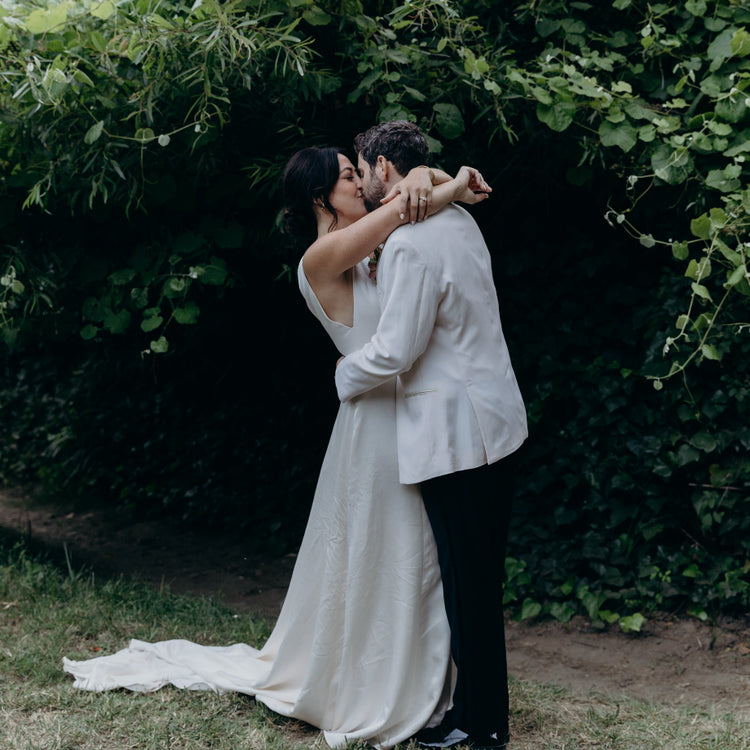 By girl, I mean —

 

founder of Whimsy + Row, Eco-Warrior and amazing friend, @MamaRaich. It's safe to say this was the Whimsy-est Wedding there ever was!Rachel + Steven got married in Northern California July 8th. Dawn Ranch is shaded with gorgeous Redwood Trees right along the Russain River. The weekend was filled with lots of laughs lots of tears, and lots of cheese. ;)
Scroll on down to hear all about their romantic proposal, what it was like for Rachel to design her own dress, and for all the eco-wedding tips. All Rachel's vendors are linked at the bottom along with a very special W+R DISCOUNT CODE for you bride-to-bes and guests.
Tell us about the happy couple! How did you two meet? How did he propose? 
All it took was a cheese plate. A true internet love story. We matched on Hinge and Steven wooed me with his quirky and cute messages. After days of fun banter, he asked me out to grab a cheese plate (my fave)! We met at Barbrix in Silverlake and closed down the restaurant. Sparks were flying and I knew I wanted to see him again. After weeks of butterflies and the best kisses in the world, we naturally fell into each other's lives perfectly. 
Just 1 month later, I invited Steven to my birthday where he dove right in with all my family and friends. From then, it was on! The following weekend we booked a getaway to SF for July 4th. On Stinson beach under the sun, we fell in love. That summer we began to make frequent trips to Encinitas (my hometown) and Steven got a crash course for my family. We also made a trip to Delray Beach, Florida and I learned all things Gringer. 
The connection and closeness grew quickly, my dad gave Steven his blessing only knowing us as a couple for a few months. When you know you know! Even my niece and nephew, Knolls and Mila quickly started calling him Uncle Stevie!
475 days after our first date, Steven proposed to me on Moonlight Beach in Encinitas surrounded by family. Like Harry said to Sally, "When you realize you want to spend the rest of your life with someone, you want the rest of your life to start as soon as possible"!
Whimsy + Row has been around for almost 9 years now, when did you start making Wedding Dresses, what was that process like? 
We started the wedding gown process about 3 years ago! There were 3 main reasons why we decided to evolve our wedding collection and start making bridal gowns.
There are not many eco-friendly bridal gowns available — everything is too expensive, covered in too much lace and made from harmful materials.

We knew there was a demand, our customers would ask for them! Our bridesmaids collections were a hit, especially our dresses in cream.

Our designer at the time Sonja, had so much experience making gowns, the timing seemed perfect!
The process was very detailed and exciting. We already knew we wanted to use our Tencel/Cupro fabric (Shiny Vegan Silk), so we just needed to find the right silhouettes. Sonja, the team and myself collected all our ideas and started narrowing them down. We ended up with 3 looks…classic, sexy and cute.
From there she sent over the tech pack with all the specs to make the pattern. Next it was off to cut the fabric and on to sewing our first samples. We fit everything on our fit model at least 4-6 times to make sure the fit was perfect!
Once we got our final samples it was time to shoot and get them online for the world to see. We decided to launch our bridal collection made to order with our lovely sample sewer, so it is a more intimate process with the customer and to get a good read on this new category. So far so good!
Tell us what it was like for YOU to say yes to your Whimsy + Row dress! 
Like I had no doubts saying yes to Steven, I knew I was going to say YES to a whimsy dress. I just didn't know which one! I gathered all my best girlies after hours at the shop and treated them with champs and cheese board of course.
Dena (our Director of Ops) made sure all the dresses with multiple sizes were lined up. She also made sure the tunes were giving all the wedding feels. I tried on each dress and we all voted at the end of which one was the best. We all said YES to the Nikki, she fit perfectly and I truly felt like myself in it. We also said YES to the Noa for my dancing dress. I made it into a high low hem to show off some leg. Comfortable and so chic! 
Sustainability seems really important to you, what are some of the ways you prioritized the environment when planning your wedding? 
It sure is! There's so much excess waste that goes on in the wedding industry, so I knew I wanted to try my best to cut that!  According to a study by the sustainability consultancy Edge Impact in 2020, the average American wedding emits 57,152 kilograms of CO2. You would need to plant 2,722 trees to offset this. Here's what I did to make my wedding as eco as possible… 
1. Zero waste invites - I first used Paperless Post for my save the dates, no waste at all! I love putting wedding invites and cards on my fridge, so I knew I had to have a physical invite. I went with Paper Culture and designed my own on their 100% recycled paper and it's recyclable. Plus they plant a tree with your order! It turned out so cute and inexpensive! 
2. We all wore Whimsy + Row, vintage or rented! My wedding dresses, bridesmaids dresses, mother of bride, mother in law, select guests and the groomsmen pocket squares were all made ethically from our Vegan Silk in LA! Also, all the tuxes were rented with Black Tux. My veil was borrowed from my sister and my blazer was vintage. My jewelry was all from Electric Picks that we sell at whimsy and provide a lifetime guarantee. Doesn't get more eco than that.
3. Plastic Free - we used compostable plates and cutlery for the rehearsal dinner and brunch. I used potted herbs for the welcome dinner tables that guests could keep. Everything for the wedding was the venues or rented from a local vendor, Encore Events.
4. No excess stuff - Although I love a good goody bag, I decided to not do one for guests. People end up throwing it away and it's so expensive! I said no to confetti too, although I did find a biodegradable one on Etsy. I settled on Happy Tears biodegradable tissues, cute fans guests could continue to use and all the memories! 
5. Keeping it local - our venue Dawn Ranch sources all its food and beverages locally. Even the wine and champs was from the vineyard down the street. Our venue is walking distance from the Russian River and all Guerneville's restaurants and bars, so guests didn't need to drive much! Majority of our guests live in California, so it was a short plane ride or drive from home. All my vendors were local and recommended by the venue, so their travel emissions were low as well. Also my talented florist Marissa of The Wild Fleur Co. only used flowers that were in season and local. 
Tell us about your bridesmaid dresses!
 I decided to go with our newest color - champagne. We only made a few styles out of it, we usually test colors with our best selling styles before we make more. I sent my bridesmaids a linesheet with all the possible silhouettes and pictures of the three styles we made in champs, Eli Pants, Leo Top and Lola Dress for them to get the look and feel. I told them to choose their top 3 styles and let me know which size they prefer. I was able to have each gal try on the dresses in person and we decided together! The dresses that we didn't have yet in Champagne our sample sewer made for them. Don't worry, this Spring we will make our wedding guest dresses in Champaign and 1 new color too! This process was really fun and made my bridesmaids feel so special :) 
What was your favorite memory from the day?
Oh wow there were so many, I'll choose two! The ceremony was really special, I felt so present and my brother-in-law who officiated really struck a balance with lots of laughs and happy tears. I just loved our vows — I loved hearing Steven explain all my perks and quirks, "like Sally Albright from her favorite Movie When Harry Met Sally, you also get cold when it's 71 degrees out". I really enjoyed writing my vows, so I was excited to share as well. Also my Dad made an appearance, although he couldn't physically be there he was shining through the tall red wood trees onto my dress.
Our moms gave us incredible marriage advice and Steven smashed the glass! Yes, he got it on the first try. My man! Another fave moment was when Steven surprised me with his high school band mates playing the drums with The Lucky Devils (our wedding band)! My sister and I ended up getting on stage and singing along with them. It was a highlight of the night and so fun!
What do you plan to do with your Wedding Dress now?
I plan to keep the Nikki for a while, maybe my future daughter will want it! If not I might dye it, hem it, and continue to wear it. I definitely want to hem my Noa party dress, it's the perfect cocktail dress!
Advice for future brides?
Enjoy each phase, even if parts are stressful. It's all part of the process! Create a fun, kind and hard working team that understands you and your vision. I hand picked all of my vendors and they really brought my dream to life! Especially my month of Wedding Planner Megan, she washed all my worries away. What will be will be, we can't control everything so let go of perfection. Honestly the slip ups and mistakes makes us human and a good story to tell.
Also don't stress too much about your website, very few people actually look at it. Make it using Zola, they've got easy to use website templates and registry. For your registry select the option to get the cash to purchase the gift, you might end up needing the cash more than the gift ;). Choose a venue where you can make it a whole weekend adventure. Having multiple events and lots of time with the people you love keeps you calm and more present throughout it all. Lastly, you look hot especially if you are wearing Whimsy + Row! But even if you don't wear whimsy, you are stunning, so strut down that aisle knowing that!
Cheers to you, Rachel + Steven! Thanks for sharing your day with us. We wish you all the love and happiness! 
And as promised, all of their vendors: 
planning + design: @eeventsco
venue + catering & bar: @dawnranch
photography: @janacontrerasphotography
cinema: @janacontrerasphotography
Photo Booth: @poplifephotobooth
florals: @thewildfleur_co
rentals: @encoreeventsrentals
paper goods + day of signage:  @altogetherlovely_design
lighting:  @encoreeventsrentals
beauty:  @kellyjobeauty
linen: @encoreeventsrentals
wedding day entertainment: @luckydevilsband
For a limited time, take 20% OFF our entire Wedding Collection — yes, that includes Bridal, Bridesmaid + Guest dresses + sets.  Use Code: YESTOTHEDRESS!  Check out this page for all the bridal gown info and to make an in-store appointment. 
🤍
Read More
Whimsy Weddings: Rachel + Steven
Our girl got married!!!  By girl, I mean — founder of Whimsy + Row, Eco-Warrior and amazing friend, @MamaRaich. It's safe to say this was the Whimsy-est Wedding there ever was!Rachel + Steven got married in Northern...
Read Me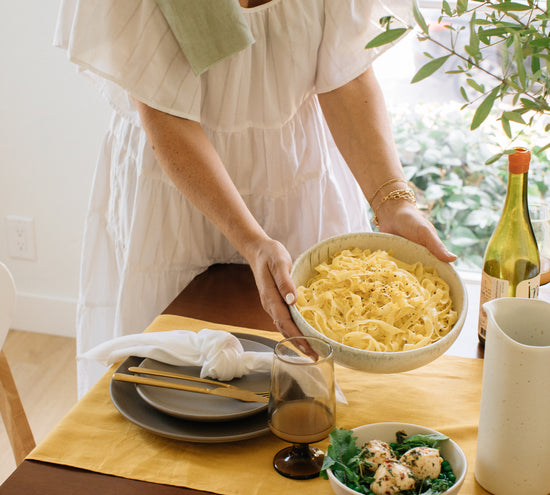 Recipe: Pasta Al Limone
If you think we launched a Home Collection, just so we could get together, eat pasta and take pictures, you're not totally wrong. (LOL!) The truth is — it was our our Junior Designer & Production Coordinator...
Read Me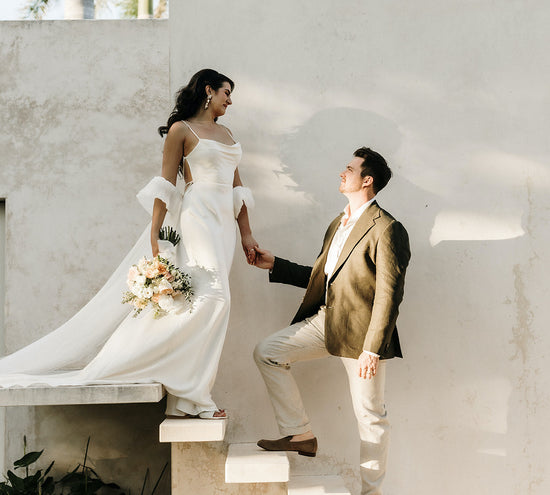 Whimsy Weddings: Sarah + Isaac
We all gasped when we saw pictures of Sarah + Isaac's Yucatán wedding on instagram. Nothing gets our team more excited than a Whimsy Bride!  Lucky for us, we reached out, and Sarah was kind enough to...
Read Me