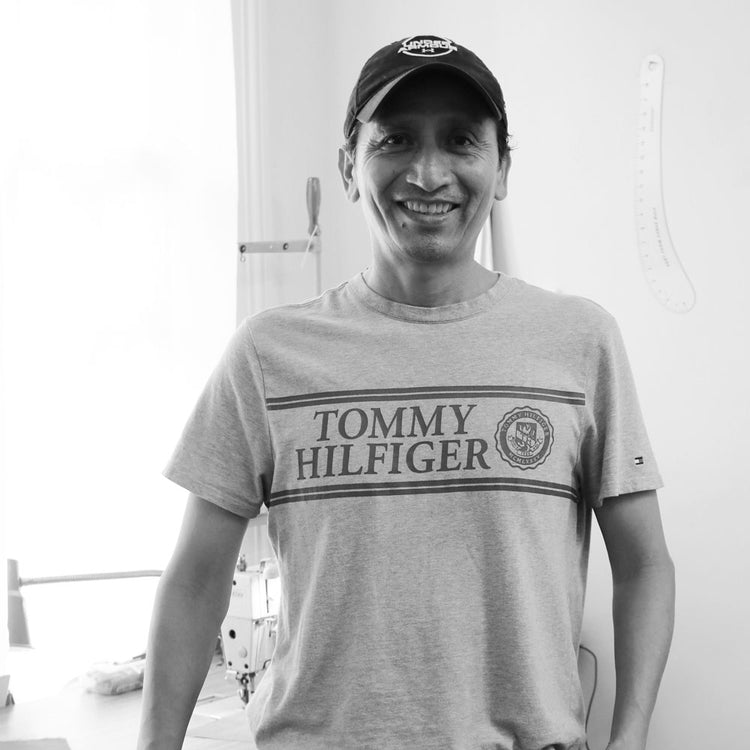 Cynthia Apparel Inc. — Adelfo
Our most complicated and silky pieces, (did someone say the Lola Dress?) are sewn by Adelfo and his team, in Downtown LA Studio. Adelfo comes from a family of sewers from Puebla, Mexico, where his parents owned a sewing factory. You can tell his expertise by his eye for creative adjustments and detailed work that he has been sewing most of this life and this is why we trust him with the bridal collection. He has 2 kids (26 & 24) and lives around the corner from his small sew shop. He is our go to for everything fancy.
LOCATION : DTLA
COMPANY SIZE : 3
HOURLY PAY : Fair wage
MATERIALS : Tencel Satin & Eco Vero
JD California Corp. — Jonathan
If we don't leave Jonathan's studio laughing, then something must be off - we always leave laughing. All of our linen pieces and so much more are made with JD Cali, think the Valentina Collection. Jonathan is originally from Guatemala. He learned his craft by working as a sample sewer at a large company – then took the leap 13 years ago and started his own business, with the help of his Dad. Jonathan and his small but mighty team take great pride in their work, and it shows. Jonathan, Francisco and Diana are such wonderful people and we love working with them. He's exceptionally proud of his two kids who are attending college.
LOCATION : DTLA
COMPANY SIZE : 3
HOURLY PAY : $18
BENEFITS : Health insurance, Lunches, & PTO
MATERIALS : Linen, Modal Rib, Organic Cotton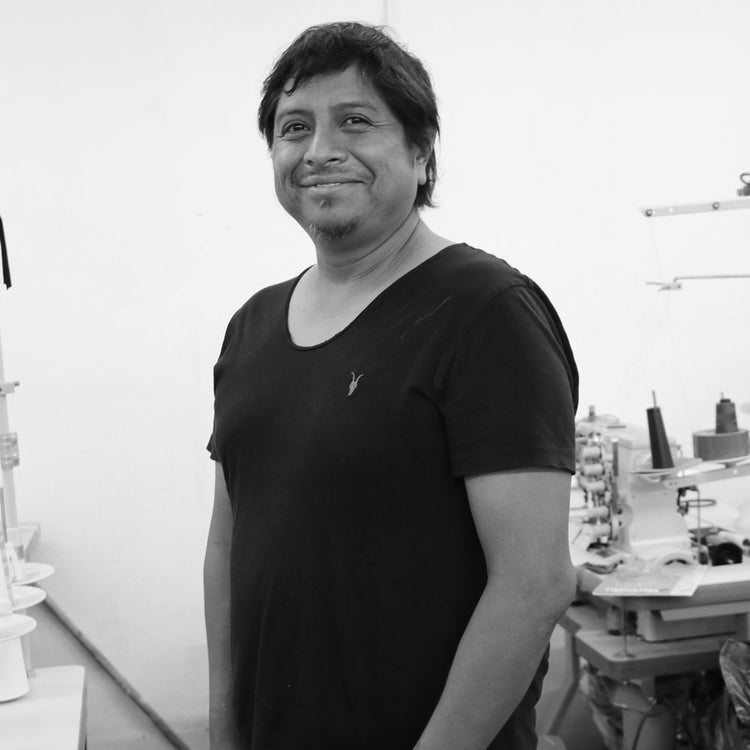 Eddie's Apparel Inc. — Eddie
"We care about our employees, so we have a very good environment" Eddie proudly explains, and you can see it in the faces of his team. They are a family and we are happy to be a part of that too. Eddie comes from a family of entrepreneurs in Guatemala, where his parents own a farm. He moved to the states at 15 and pursued a degree in fashion from Los Angeles Trade Technical College studying design, pattern making, and draping. After graduation, he started making samples, then learned the ins and outs of production and grew into the role of Production Manager working for several LA brands. His cousin noticed his talent and encouraged him to start his own business and that he did. Eddie loves creating quality clothing and working with diverse customers, where he guides their creativity into beautiful garments. He is our superhero when it comes to adjusting for best construction, ie our amazing Modal Rib Collection. When he's not working, he's spending time with his two children who are 10 and 3!
LOCATION : DTLA
COMPANY SIZE : 6
HOURLY PAY/SALARY : Fair wage
BENEFITS : PTO, Monthly Lunches
MATERIALS : Linen, Eco Vero, Modal Rib, Organic Cotton, Tencel, Tencel Satin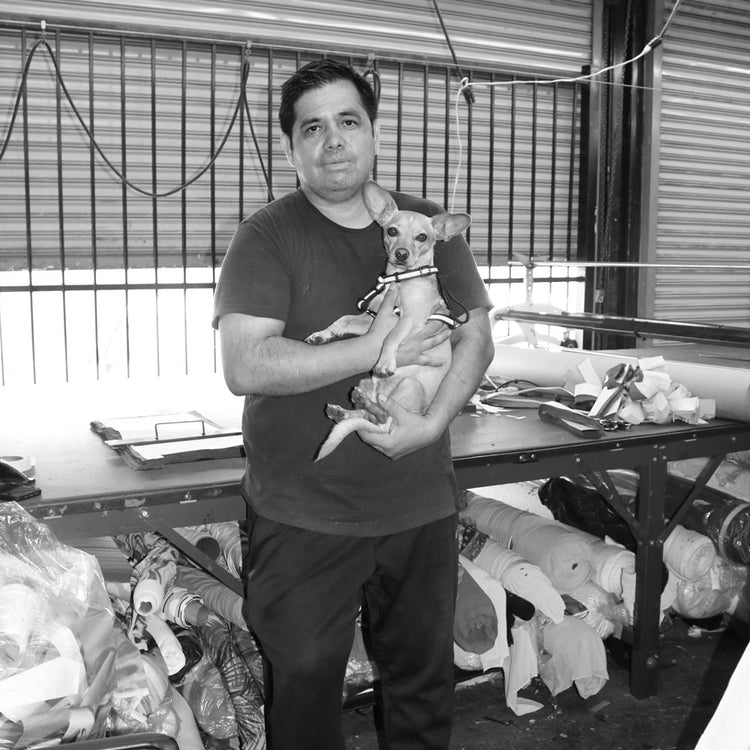 Miguel Cutting Services — Miguel
Meet Miguel, all of the clothing passes through the warehouse doors of Moon Cutting. He receives our fabric, lays the fabric on long cutting tables, calculates yields (there's a lot of math in fashion), rolls out the pattern and meticulously cuts each part of the garment. His job is an extremely important part of our process and we'd be a little lost without him. Like his father, Miguel is a self-starter and business owner. When he was 16 years old, he learned English to work with tourists, in Acapulco and that upbeat "let's have a great day" comes through whenever you are around him. He started working in the fashion world over 20 years ago and it was 10 years ago when he made the leap to start his own business cutting fabric and we are so grateful he did. When he is not working, he spends time with his wife and 7 year old child.
LOCATION : DTLA
COMPANY SIZE : 2 part time, 3 full time
HOURLY PAY : $20+ for part time, fair wage for full time employees
BENEFITS : Weekly Friday Lunches, 1 week PTO, paid holidays and sick days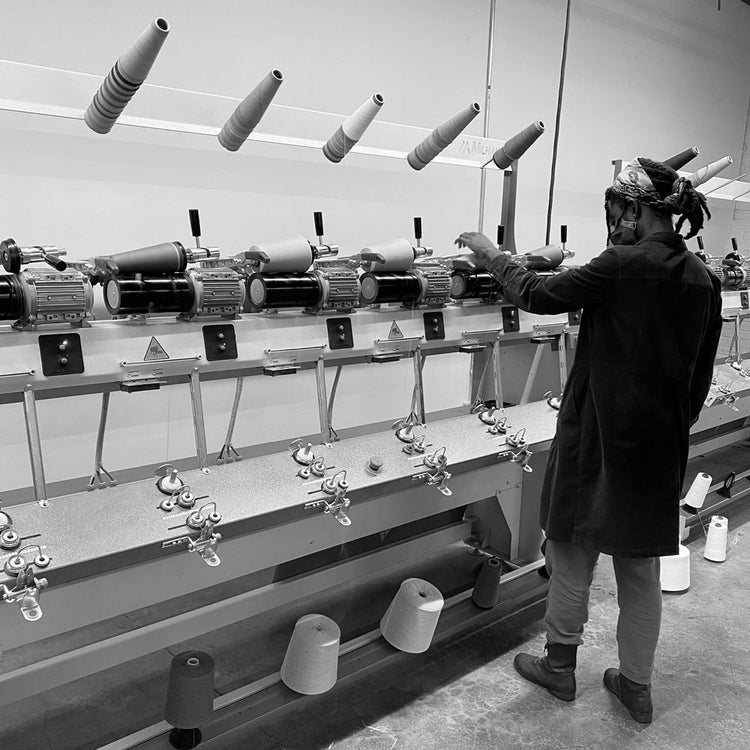 Evolution St. Louis
Revolutionizing knitting, we are proud to partner with Evolution for all our sweaters. Based in Saint Louis, their 32,000 square foot space features premier high-tech knitting using cutting-edge 3D and complete garment seamless knitting technology. They helped us sustainably source baby alpaca from Peru and certified organic cotton. Learn all about their factory HERE. We really enjoyed meeting their team and exploring their very clean and impressive factory. Fun Eco Fact : Evolution renovated their factory/offices and brought all buildings to environmental efficiency and most of their furniture is made from recycled local wood from old factories!
LOCATION : Saint Louis, Missouri
COMPANY SIZE : 35+
PAY : Fair wage for hourly team members and have salaried employees as well
BENEFITS : Health, vacation & PTO
MATERIALS : Sweaters/Knits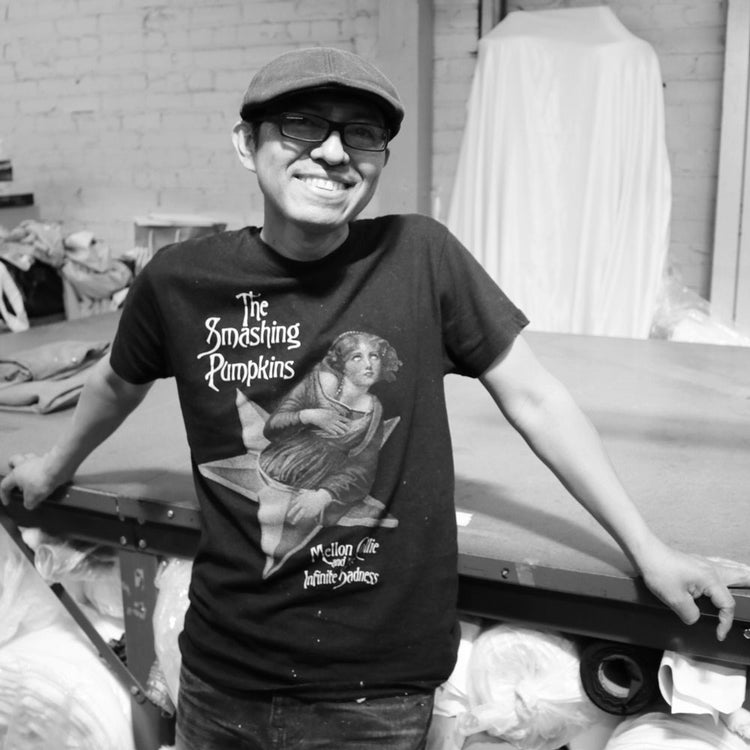 B'atz' Ox — Carlos
The newest factory to the Whimsy rolodex is B'atz'Ox, aka Carlos and his team AND we couldn't be happier. From wovens to knits to denim, he has perfected his craft and can sew it all, with care and ease. SS 23 Freya Slip Dress is made with this team… and we are all looking forward to this summer ensemble. Carlos' dad was a tailor, and his mom was a
dressmaker, so fashion has always been in his "jeans". He learned how to sew from an early age and was sewing samples by middle school. When he moved to Los Angeles from Guatemala, he enrolled at LA Trade Tech College to learn patternmaking and technical design. After graduation, he freelanced and worked several jobs to learn the ins and outs of the apparel business before launching his own business in 2022. Did you read Eddie's Apparel above? That's one of his colleagues and where we met Carlos, and we are happy to work with and support them both. Carlos values the rich culture and history of his heritage and wants to create clothing that mixes the cultural elements of his country with modern clothing. Whenever possible you can find Carlos dancing salsa.
LOCATION : DTLA
COMPANY SIZE : 2
HOURLY PAY : Fair wage
MATERIALS : Linen, Organic Cotton, Tencel Satin, Tencel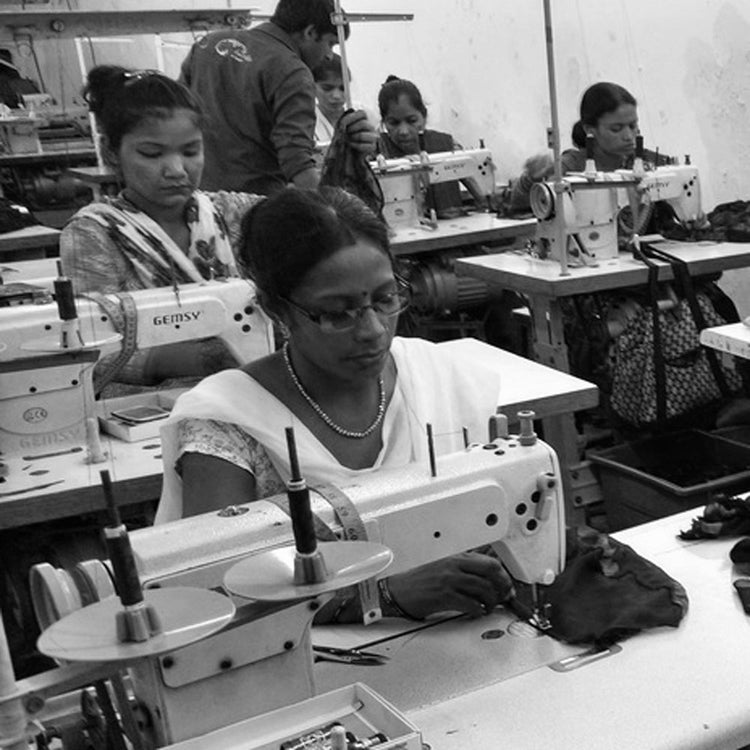 Kaveri — Naresh
Kaveri is located in New Delhi, India and the owner, Naresh believes in empowering and uplifting social status of women. They strive to have equal representation of women in the manufacturing process. They are passionate about providing work to women who live in their neighborhood and have social or other taboo to travel far for work. Stability and sustained work is the hallmark of their social initiative.​ Along with empowering women in their community, they help source GOTS and Oeko-TEX certified textiles to ensure the goods that they make are earth friendly.
LOCATION : India
COMPANY SIZE : 30
PAY : Wage Compiant by Law, provides Monthly Salary for all workers
BENEFITS : Health and Pension Benefits
MATERIALS : Organic Cotton Twill & Denim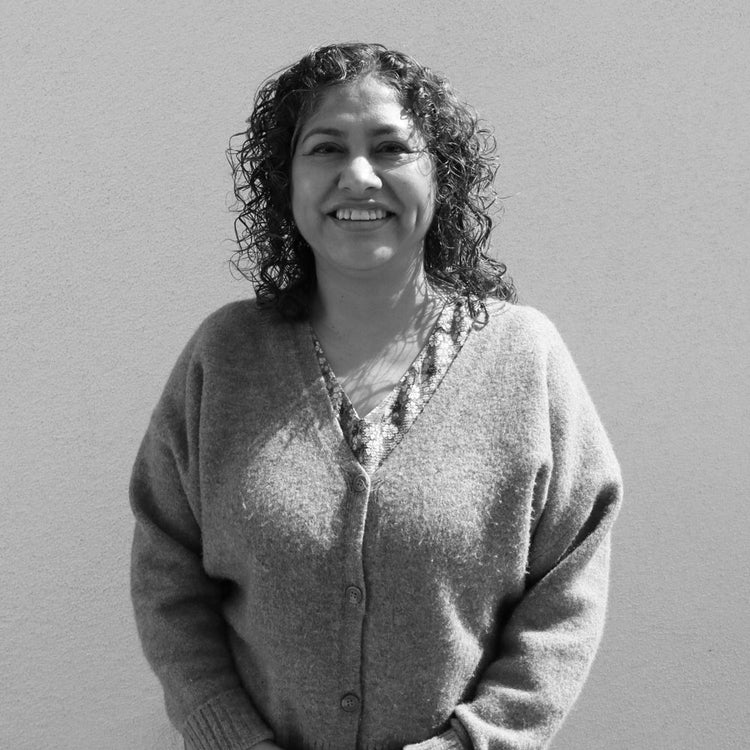 Maria Moran — Pattern Maker
Maria is our amazing and talented Pattern Maker. She brings our styles to life and makes sure our quality and fit are perfect.
Maria is from Jalisco, Mexico and moved to LA when she was 18. She attended the fashion design program at LA Trade Technical College, where she quickly fell in love with pattern making. She said it comes very naturally to her (oh the math) and finds the process relaxing. Upon graduation, she worked for a small LA based company where she learned all aspects of the fashion industry, from flouncy dresses to big bell-bottomed denim. Now as an expert in her profession she is lucky enough to work freelance, and have a diverse clientele, and says she loves the variety and creativity that comes through her studio door.
Maria says she is so grateful to work the W+R "a company that appreciates, sees and takes care of it's team."
When Maria is not working, she spends time with her family and attends church. She has 2 daughters in high school and a very cute pup, Estrella.