An Introvert's Guide to the Holidays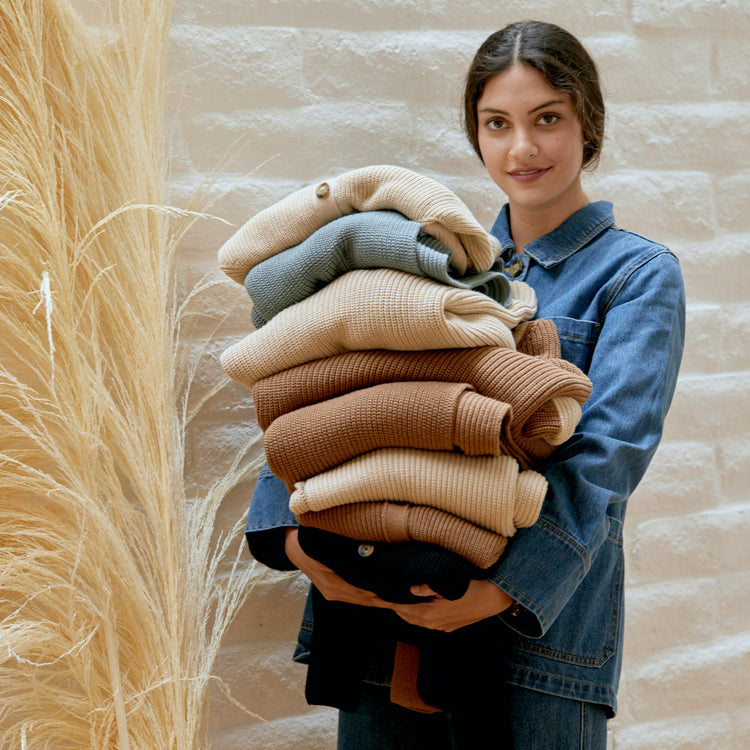 As we speed towards the holidays, calendars are exploding with social obligations and seasonal activities. This time of year is perfect for those of us who are sentimental, love cheesiness, and thrive on being cozy. However, the season can come with a lot of pressure to socialize as well, and for introverted people, this can prove more overwhelming than merry. Instead of dreading all the holiday hoopla, navigate the holidays with these tips for staying festive without the stress.
Make Peace With Your Introversion
First things first: let go of any guilt or shame. You are already enough exactly as you are and there's nothing wrong with preferring time alone. Before you can enjoy an introverted holiday season, it's important to accept and embrace who you are. While it's wonderful to love socializing, it is certainly not for everyone. That's more than okay!
Have a Solo Holiday Film Festival
Despite what you may think, movie-watching is one of the best solo activities during the holidays. You don't need anyone else to laugh, cry, or roll your eyes at your favorite festive films (bonus points: no one is there to make fun of your viewing choices!) Make a list of holiday movies to watch and check one—or two!—off each night. Turn this activity into a solo event with a comfy blanket, the best loungewear, and maybe even a holiday treat.  
Craft Something Festive For Yourself
Whether it's a delicious cocktail, cozy beverage, or holiday craft, lean into making as a form of self-care. If, unlike your favorite holiday movies, you don't enjoy making cookies with your entire family, there's no rule that says you can't celebrate the season on your own! Whip up a good drink, blast that holiday playlist, and make something that'll scream holiday cheer. You can even combine the holiday film festival with festive crafts. Before you know it you'll have a fully decorated home, a slew of homemade gifts, or at least a lot of maker mishaps to keep you giggling into the new year.
Choose Your Social Engagements Wisely
While you're getting comfortable saying "no," make sure you leave room for a few gatherings or activities with others. Even if you're looking for a quiet holiday season (a la The Waitresses,) you may regret letting the season go by without seeing at least some of your loved ones. Reserve your precious energy for the few social engagements that will ultimately make you happy. Get a little extra support from a confidence-boosting outfit—whether that's a soft turtleneck, these killer boots, or this show stopping dress!
Take Breaks and Set Boundaries
At the end of the day, there are some obligations we just can't get out of. When these moments arise, remember to equip yourself with an emotional tool kit. Strategize an easy out such as driving yourself to the gathering or saying you have an early morning upfront so that you're free to leave when you choose. If you're at home with your family, partake in solo activities like walks around the neighborhood or curling up with a good book. Remember that you can't please everyone and taking care of yourself is just as important as being there for others!
Thanks for reading and Happy Holidays fellow introverts! (and extroverts!) 
Read More
Whimsy Weddings: Rachel + Steven
Our girl got married!!!  By girl, I mean — founder of Whimsy + Row, Eco-Warrior and amazing friend, @MamaRaich. It's safe to say this was the Whimsy-est Wedding there ever was!Rachel + Steven got married in Northern...
Read Me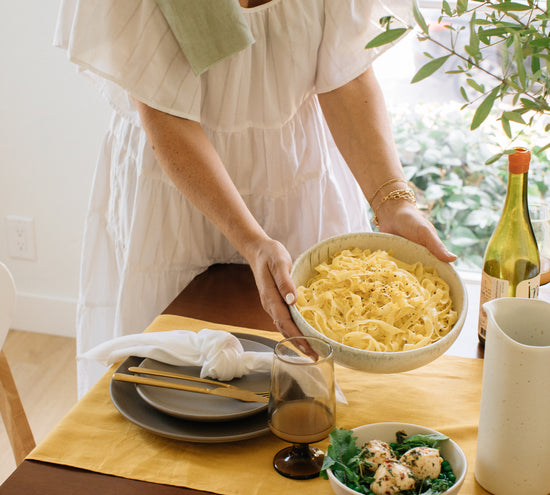 Recipe: Pasta Al Limone
If you think we launched a Home Collection, just so we could get together, eat pasta and take pictures, you're not totally wrong. (LOL!) The truth is — it was our our Junior Designer & Production Coordinator...
Read Me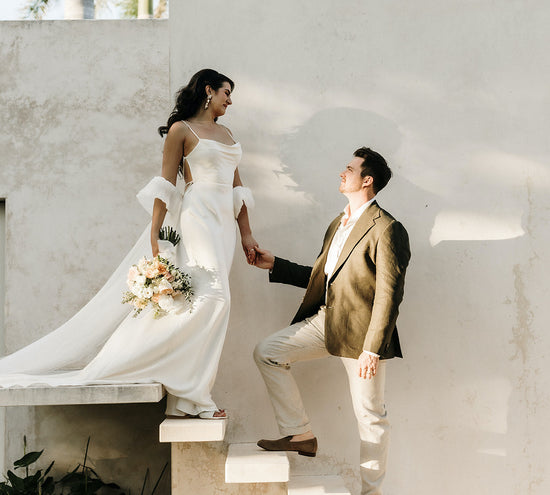 Whimsy Weddings: Sarah + Isaac
We all gasped when we saw pictures of Sarah + Isaac's Yucatán wedding on instagram. Nothing gets our team more excited than a Whimsy Bride!  Lucky for us, we reached out, and Sarah was kind enough to...
Read Me