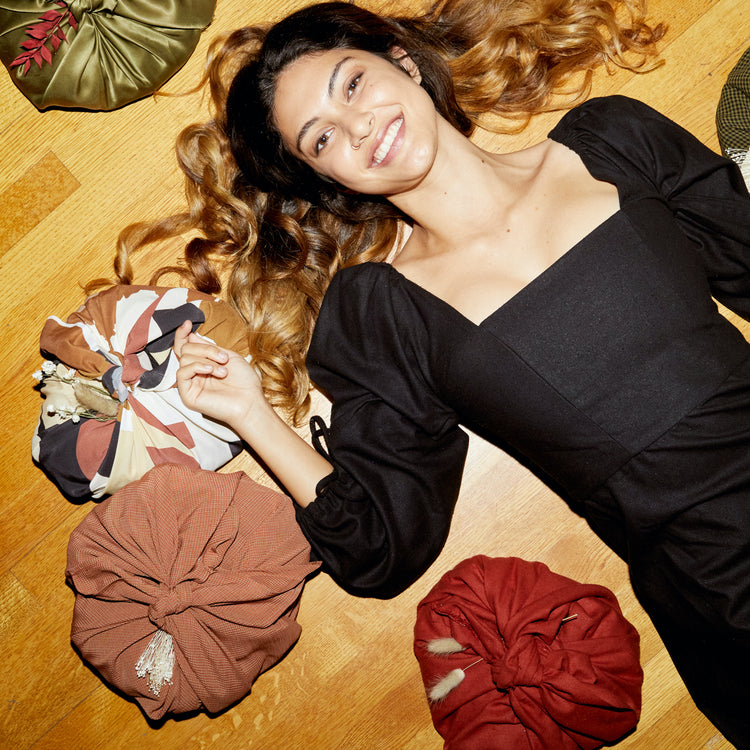 Although the DIY craze of the mid-2000s seems like a distant memory nowadays, there are still plenty of ways to bring personal touches to your wardrobe, home, and holiday season. Go completely zero waste with your holiday DIY, follow a specific color scheme, or mastermind your own seasonal theme! Whatever you do, use these crafty projects to further connect with yourself or your people for the loveliest holiday season yet.
Decor
Festive feelings usually start at home which, in this case, means investing time in killer DIY decorations. No matter what you celebrate, creating a cozy and festive home can bring some much needed joy to the darker, colder months ahead. So, skip the plastic-filled holiday decorations from the store and plan an afternoon or two (or five) to make your own! Start with a classic holiday wreath, like this "classic" one with lush natural materials, or this more minimalist "hoop wreath" one.
Getting a tree? Learn to make these funky pom pom ornaments for a colorful look or go more minimalist with these origami stars made from upcycled paper. If you're an apartment dweller and don't feel like dragging a tree inside, you can still create beautiful garlands and decor to add some fun to your space. Start by learning how to dry citrus, then make a gorgeous dried orange garland like this one with wooden beads, this one with cranberries and popcorn, or this simple "Scandinavian style" one.
Looking for more natural elements in your home? Take a trip to the woods to forage pine cones. Place them in a serving or decorative bowl to showcase their beauty or scent them with essential oils to get that holiday aroma. Lastly, if you're planning to have any sort of holiday gathering, you have to dive into the world of tablescapes. DIY some festive wine tags or charms to help everyone keep track of their glasses, make card holders for each dinner guest like these sweet herb bundle ones, and add centerpieces such as these luminaries or more natural pieces to bring the outside in.
Gifts
The next best thing to decorating your home for the holidays? Giving a gift made with love. If you know someone who loves their warm winter drinks, create a simple kit with dry ingredients to make their drinking experience that much easier. Follow this hot chocolate example and make it your own by substituting whatever spices and dry ingredients are necessary for your loved ones favorite drink, as well as their dietary restrictions. (You can also do this with baking!)
Know someone who could use a little r&r? A DIY body scrub is quick to whip up and recipes are easy to customize for each individual. Maybe you're looking to kick your DIY up a notch. Sign up for an online or in-person workshop to learn a new craft like knitting, sewing, or wood burning. These classes often equip you to complete a simple first-time project, perfect for your next holiday gift. Makers Mess is a wonderful LA local business but there are countless craft stores and companies across the country to try!
Interested in something more sentimental? Create a personalized advent calendar filled with notes of affirmation, their favorite candy, or memories of the two of you. Get inspiration from this blanket ladder advent calendar and this advent calendar kit on Etsy. Regardless of what you're getting a loved one, wrap it in something you've added your own touch to like this potato (yes, potato) printed wrapping paper, or learn of and try your hand at the Japanese technique "furoshiki" using one of these fabric squares!  No matter who you're gathering presents for, adding a homemade element always makes gifting a little extra special.
Good Vibes
Before everything became automized, mass marketed, and easily accessible, we made things on our own. And while the world has changed, and we can't possibly do it all by ourselves, getting back to creating once in a while can be extremely therapeutic. You can even use homemade projects as an excuse to get together with loved ones by throwing a crafty party! DIY projects give us a chance to add our personalities to whatever we're making, and when it comes to gifts, that can be just as much fun for the person receiving it as it is for the one crafting it.
Connect with your people, near and far, with just a few personal touches and a whole lotta love! 
xx, Whimsy + Row 
Read More
Whimsy Weddings: Rachel + Steven
Our girl got married!!!  By girl, I mean — founder of Whimsy + Row, Eco-Warrior and amazing friend, @MamaRaich. It's safe to say this was the Whimsy-est Wedding there ever was!Rachel + Steven got married in Northern...
Read Me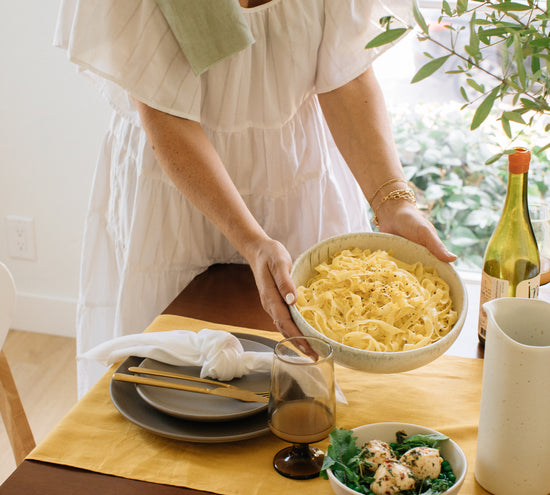 Recipe: Pasta Al Limone
If you think we launched a Home Collection, just so we could get together, eat pasta and take pictures, you're not totally wrong. (LOL!) The truth is — it was our our Junior Designer & Production Coordinator...
Read Me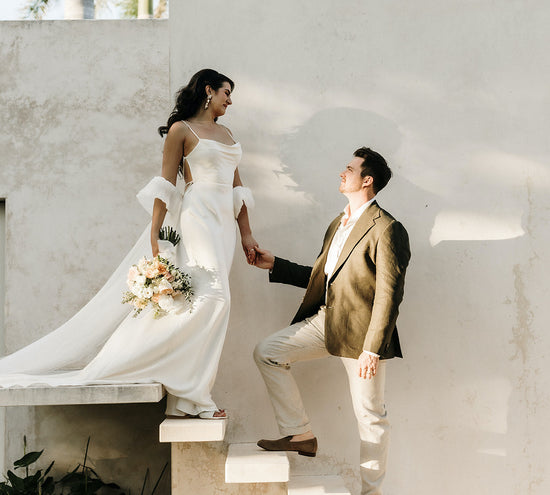 Whimsy Weddings: Sarah + Isaac
We all gasped when we saw pictures of Sarah + Isaac's Yucatán wedding on instagram. Nothing gets our team more excited than a Whimsy Bride!  Lucky for us, we reached out, and Sarah was kind enough to...
Read Me