Whimsy Weddings: Sarah + Isaac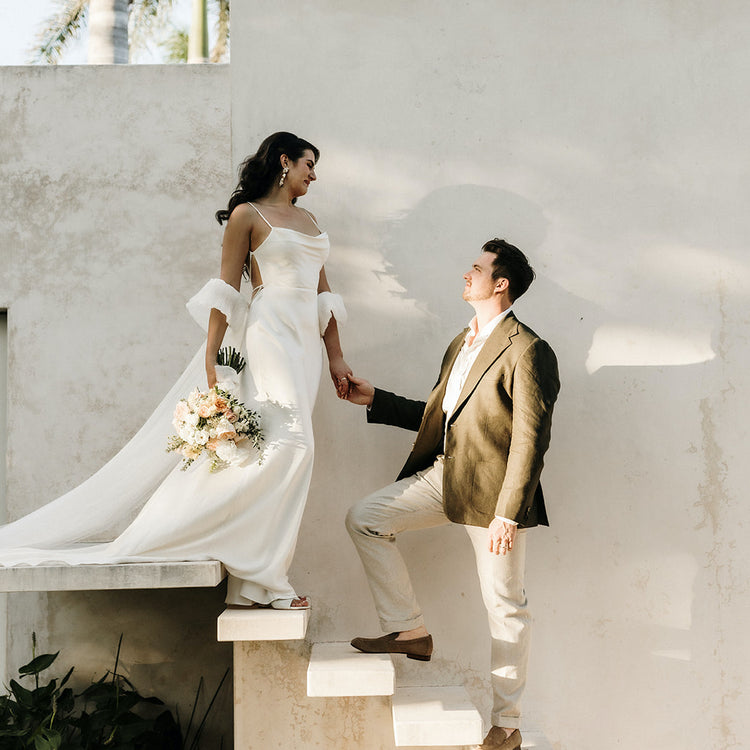 We all gasped when we saw pictures of Sarah + Isaac's Yucatán wedding on instagram. Nothing gets our team more excited than a Whimsy Bride! 
Lucky for us, we reached out, and Sarah was kind enough to share her experience with us!  She looked absolutely stunning in our Bridgette Bridal Gown, and we still can't get over all the gorgeous details and the LOCATION! We'll be needing those cocktail recipes! ;)
Scroll on down for all the advice, find out how Sarah found her venue on accident, and for all dreamy photos from the day. (Plus vendor tags for you bride-to-bes!)
Cheers to Sarah + Isaac!  🥂
Tell us about the happy couple! How did you two meet?  
Isaac and I were born and raised in Albuquerque, NM; for those that have never been, we often refer to it as the biggest small town. We shared a mutual friend and our paths crossed throughout high school and college; but it wasn't until the end of college that we became friends, then each others' crush and eventually a couple. Something you need to know about us is that we are resourceful, but extra…I say this is as it is important to know before talking about the proposal and wedding. We're a scrappy duo who are easily inspired, avid DIYers and are all about a theme or concept. We love to entertain and create special experiences for ourselves and others. It is something we both value and one of our greatest points of connection.   
Another thing we share in common is our appreciation for good food and drink. Isaac is an owner of a coffee shop in Albuquerque called Little Bear and it has been our gateway into, not only, craft coffee but also craft cocktails. Because of this, Isaac decided to make a home bar in the gutted basement of our home.
He worked many nights and weekends building one of the cutest corners in town. To unveil the space, he invited our closest friends for a grand opening party with a special cocktail menu and drink names calling back to many of our inside jokes (See? Extra). I was sipping on a drink chatting with friends when the music changed and he sauntered over with a special drink and menu just for me.
The menu had a drink titled "Will you marry me?".
He got down on one knee and presented a cocktail garnished with a peach colored rose and nestled in the center was the most beautiful diamond ring. After I said yes, we celebrated with all of the friends and family and a champagne tower… as you should!
Where was your wedding? What was it like choosing a venue?  
Our wedding was at an incredible, private Hacienda in Yucatán, MX, but a destination wedding wasn't our original plan. Initially, we thought we wanted a large wedding in our home state but that idea was quickly becoming very expensive and stressful. With a lot of back and forth we came up with the following items to use as our wedding venue checklist & planning guide:
The wedding should be a celebration of our love
The wedding should be a party with our favorite people
The wedding should have great cocktails and Isaac wanted to create them.
Having this list made our search so much easier. Funny enough, I found our venue in Mexico on accident; I spelled a local venue's name wrong and Google was quick to serve an Ad for the hacienda. We fell in love with it immediately and felt this option allowed us to celebrate in a beautiful place, have an entire wedding party weekend with our nearest and dearest plus, Isaac could have full creative control over the drinks, it ticked all the boxes. 
What was the process like saying yes to a Whimsy + Row dress?  
I remember when W+R announced a bridal line, I was over the moon and quick to check the collection out online. One thing I knew, in shopping for a dress, is that I was not about to buy a fast fashion wedding dress. For me, part of feeling good in the dress meant I had to feel good about its production and sourcing. When I saw the Bridgette Gown I knew I had found my dream dress.
It was exactly what I wanted a simple, slinky fitted silhouette with an open back. I emailed W+R right away to ask about measurements and sizing before ordering, the associate was so helpful to me. I placed my order and waited, the dress was made to order to reduce waste and in a short couple of months it showed up at my doorstep. I tried it on and it fit so well; its silky simplicity was perfectly complemented by the pleated tulle wedding veil coat I designed and created. The only alteration that had to be made was hemming the skirt which I was able to do with the help of my aunt. 
You upcycled a dress that ended up being your rehearsal dinner dress—  can you tell us about that process?
It was important to me that I upcycled or sewed an article for my wedding attire. Sustainable and ethical fashion is a passion of mine and upcycling has been a big part of my life. For context, I founded and ran an upcycled clothing brand for years up until the pandemic. I had a thrifted wedding dress I'd been sitting on that I expected I could refashion into my dream wedding dress. Well, I got to work and quickly realized it was not going to become what I envisioned. Coming to terms with this and letting go of the pressure to make it work allowed me to pivot and find new inspiration. I completely switched direction and transformed the long, lacey dress into a short, sweet rehearsal dress; with a pleated skirt and long tied straps. It was so fun to wear and I was super proud of how it turned out. 
What was your favorite memory from the day?  
A favorite memory from the day is hard to choose, there were so many that I often recall and feel so grateful for. But, I find myself to be a words of affirmation girlie, so hearing the heartfelt vows my husband wrote along with the sweet and hilarious toasts from our friends and family was really special.
Another memory that's hard to beat is how, at the end of the night, we moved the dance party to the pool. The whole wedding party changed into swimsuits, jumped in the pool and swam and danced into the early hours of the morning. 
What do you plan to do with your Wedding Dress now?   
This is such a good question and I am caught oscillating between holding onto it for a future wearer in the family or selling it to let someone else feel as incredible as I did. Either way, my hope and plan is that it gets to be reworn and enjoyed several times over. 
Any advice for future brides? 
 My advice to anyone getting married in the future is to know what you and your spouse want out of your celebration and trust yourselves. I think it's important to know how you want to feel and what you hope to see.
For us, being the party-people/hosting types, we knew we wanted a really fun party and, at first, we thought that meant we had to have a giant wedding. But some of our favorite memories are of our small impromptu dance parties we'd had with our friends; for us, it was much more about the feeling of the party than the size of the party. Having a small celebration also made us feel safe and comfortable to share our vows, which was us at our most vulnerable and super special for us.
My advice? Forget every and any tradition that doesn't fit into your celebration, know the feeling you want and be open to what that looks like in practice, there is no right or wrong way to have a wedding and lastly, something will go wrong on your special day, it's inevitable, it will be a funny story later so don't give it any more energy than you need to. 
Special thanks to Sarah + Isaac for sharing their wedding with us! We wish them all the love + happiness. Check out our bridal collection here.
bridal coat designed & made by Sarah  
Read More
Whimsy Weddings: Rachel + Steven
Our girl got married!!!  By girl, I mean — founder of Whimsy + Row, Eco-Warrior and amazing friend, @MamaRaich. It's safe to say this was the Whimsy-est Wedding there ever was!Rachel + Steven got married in Northern...
Read Me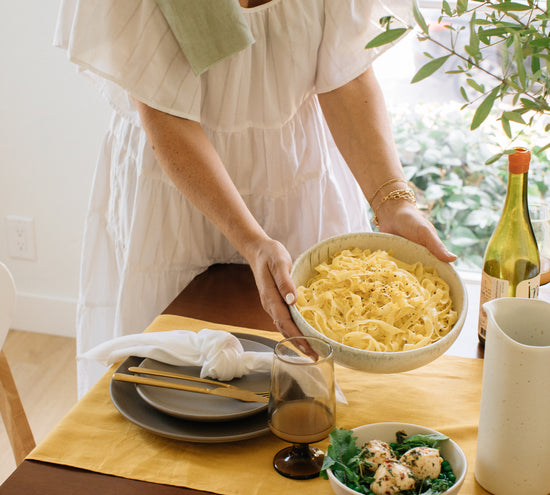 Recipe: Pasta Al Limone
If you think we launched a Home Collection, just so we could get together, eat pasta and take pictures, you're not totally wrong. (LOL!) The truth is — it was our our Junior Designer & Production Coordinator...
Read Me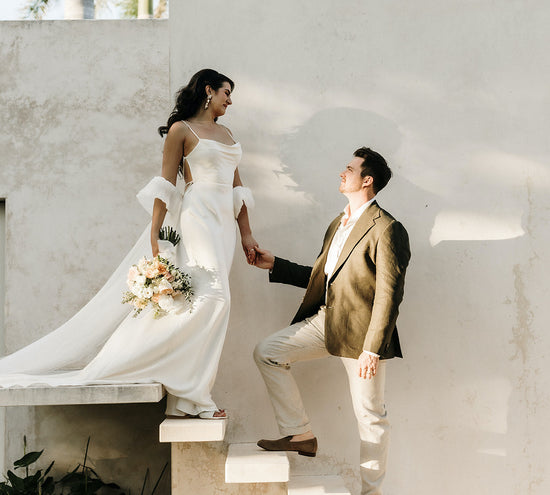 Whimsy Weddings: Sarah + Isaac
We all gasped when we saw pictures of Sarah + Isaac's Yucatán wedding on instagram. Nothing gets our team more excited than a Whimsy Bride!  Lucky for us, we reached out, and Sarah was kind enough to...
Read Me