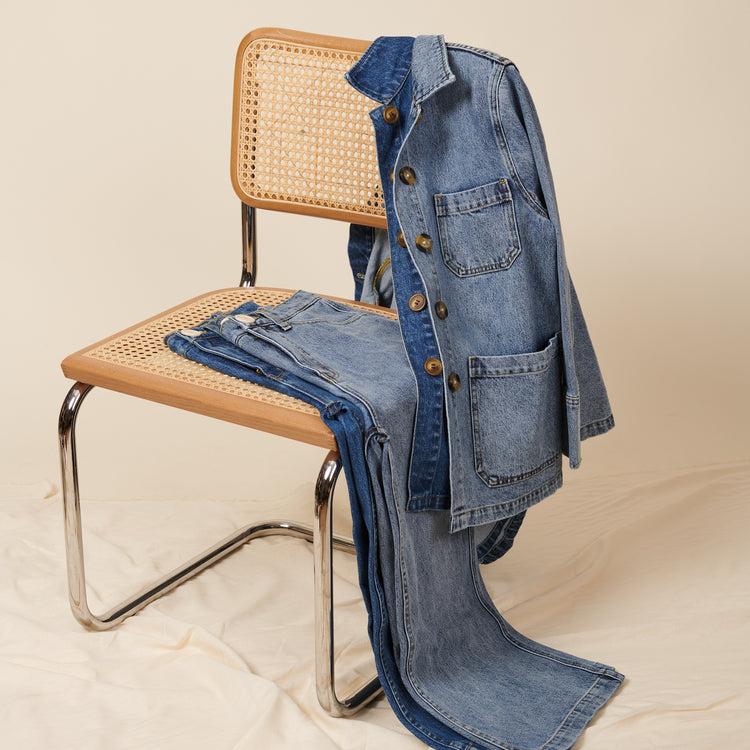 Our denim dreams have finally come true and this is just the beginning. Thanks to our Production Assistant's Mom, Jenna (aka the Denim Manufacturing Expert) we are able to create our own eco denim! 
We did the work to make sure they have good 'genes' - super soft, amazing quality, comfy, cute, versatile, timeless, chic, and of course eco. They are ethically made in China, Oeko Tex Certified, carbon neutral and made with 100% certified organic cotton, low impact dyes, recycled water, plastic free, and our trims, labels & packaging are made from recycled materials.
To start our denim journey we wanted to first introduce our 2 most loved styles, The Flora Pants + Jordan Jacket in 2 washes (light & dark). 
"I just snachted myself a pair and the fit, softness, and color are perfect. They are my new quaren-queen pants!" — W+R Founder, Rachel 
As you may know, we typically make all Whimsy products locally in DTLA to ensure fair wages are given and the workers are being treated fairly. Our Denim line is the very first round of production we made overseas and we were SO LUCKY to have Jenna (a true Denim Manufacturing Expert) to help us through the process and make sure our values were being met. In efforts to remain transparent, we wanted to share a Q+A we had with Jenna so you could get to know her + Shandong Lanyan Jeanswear too. 
Q+A
Why do you enjoy working with the factory and mill that you chose for us?
The factory I had chosen (to work with) is named 'Shandong Lanyan Jeanswear'. I enjoy working with this factory because it has been accredited by many well-known brands such as Levi's, which I worked for over 25 years, Uniqlo, Best Seller. Additionally, Lanyan is a vertical set up factory, therefore they do both fabric and garment production, keeping everything in house. They are reliable and a great partner to work with.
Does 

Shandong Lanyan Jeanswear

 pay fair wages and offer good benefits?
Yes of course! It is by law that employers must offer fair wages and benefits for all the staff and workers. These benefits include retirement plans, medical plans, other insurance plans and more all covered by the employer.
What are they doing to protect workers during the pandemic?
During the pandemic, it is very important for our factory to keep it safe since the city is pretty dense with people. In efforts to make it extra safe, the factory performs sterilization to all plants twice a day. Anyone entering the facility must take a body temperature before going in the premises. Additionally, the employer must provide at least two surgical masks to each employee everyday.
We want to learn more about you, what is your background/story Jenna?
I started my Apparel and Textile career at Swire & Maclaine in Year 1987 when I was 22 years old. I joined Levi's in Year 1989 also as Merchandising Assistant and as Fabric Manager when I left the company in Year 2008. During my time in Levi's, I had been working across divisions. First I joined the shirt Division handling both Fabric and Garment Sourcing for Shirts orders for USA market. 
Then I was transferred to Fabric Department to do all Fabric developments and sourcing. In Year 1997, the two brands (Levi's & Dockers) were very hot in Asia so I had been transferred to Asian Pacific Division as Senior Merchandiser to work on fabric and garment sourcing. During my time working in APD, I had handled developments 400+ styles a year and covered all items : Hats, Caps, Knit and woven Tops, Wool Sweaters, Jackets, Pants, Jeans and socks. I had been transferred to Fabric Department in Year 2003 as Fabric Manager handling all Denim fabric for all divisions. 
I met Lan Yan in Year 2003 and have been trained up this factory to be certified by Levi's as a key partner in Levi's sourcing base during 2003 to 2010. I had lived in Shanghai for 5 years after Levi's and back to HK in Year 2013. Because of my strong sourcing background, I was partnering with Eric to start our own business. After 30+ years working life, I started slowing my pace and going to half retiring.
(Jenna with her daughter Jenn, Whimsy + Row's Production Assistant)
Read More
Whimsy Weddings: Rachel + Steven
Our girl got married!!!  By girl, I mean — founder of Whimsy + Row, Eco-Warrior and amazing friend, @MamaRaich. It's safe to say this was the Whimsy-est Wedding there ever was!Rachel + Steven got married in Northern...
Read Me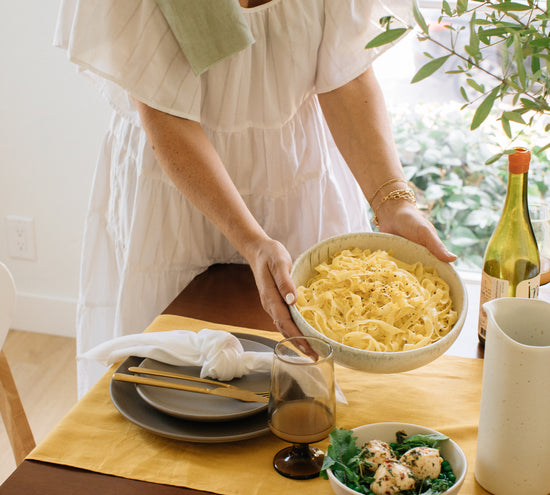 Recipe: Pasta Al Limone
If you think we launched a Home Collection, just so we could get together, eat pasta and take pictures, you're not totally wrong. (LOL!) The truth is — it was our our Junior Designer & Production Coordinator...
Read Me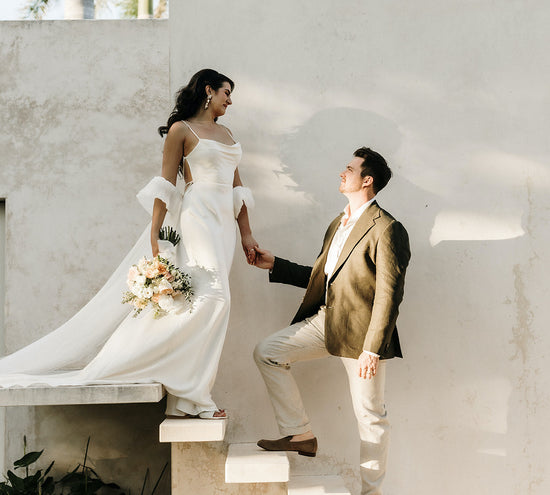 Whimsy Weddings: Sarah + Isaac
We all gasped when we saw pictures of Sarah + Isaac's Yucatán wedding on instagram. Nothing gets our team more excited than a Whimsy Bride!  Lucky for us, we reached out, and Sarah was kind enough to...
Read Me