Two In One, Double The Fun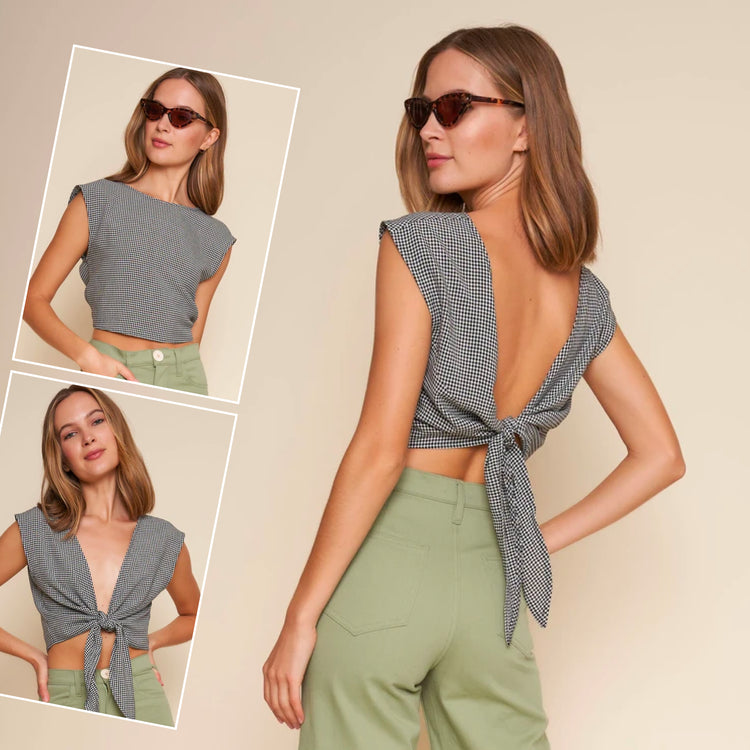 Questions we ask ourselves when shopping thoughtfully… "Where was this made? Who made it? What's it made out of? What's the cost per wear?" And.. "How much will I ACTUALLY wear this?" Well, when you are buying one top, that's actually TWO different tops for the price of one, we have a feeling your answer will be, A LOT. 
At Whimsy, we like to double down when we make clothes. Convertible clothing is like the 'buy one get one free' promo that never ends, all the while keeping capsule wardrobe aspirations on track. (and perfect for when you're trying to pack light). A bandana that can also double as a face mask in a pinch, or be tied into a crop top? Yes please!  So go ahead, and try flipping your Valentina Top around... then check out our other convertible option below. 
Recycled Square Banana: Is it a hair accessory, a neck scarf, a bandeau, 90's triangle top, a face mask? The options are endless. 
The Lauren Top: Much like the Valentina Top, you can choose business in the front, party in the back. (or vise versa...) 
Birdie Top: Peek-a-boo tie front (or back). Either way, this gauzy cotton top is a breeze.


Rachel Dress: A choice between a moderate scoop or a classic crew neck.  Up to you!
The Valentina Top
: Wear with the tie in the front for a flirty deep-v, or keep it simple with a bow in the back. 
The Kate Dress: Option to wear the scoop neck in the front, or the back! Tie straps give extra control over the neckline too ;)
Shop the Convertible Collection
Read More
Whimsy Weddings: Rachel + Steven
Our girl got married!!!  By girl, I mean — founder of Whimsy + Row, Eco-Warrior and amazing friend, @MamaRaich. It's safe to say this was the Whimsy-est Wedding there ever was!Rachel + Steven got married in Northern...
Read Me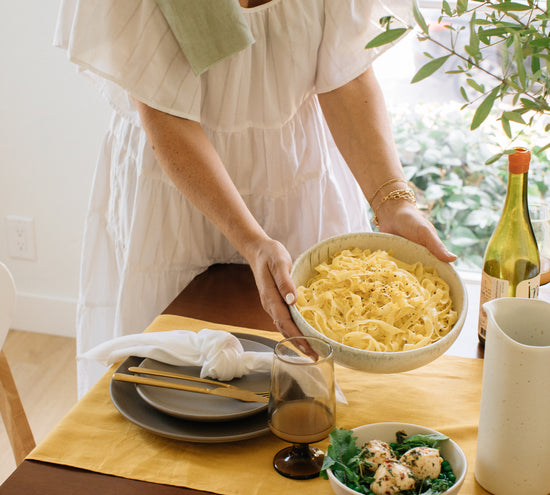 Recipe: Pasta Al Limone
If you think we launched a Home Collection, just so we could get together, eat pasta and take pictures, you're not totally wrong. (LOL!) The truth is — it was our our Junior Designer & Production Coordinator...
Read Me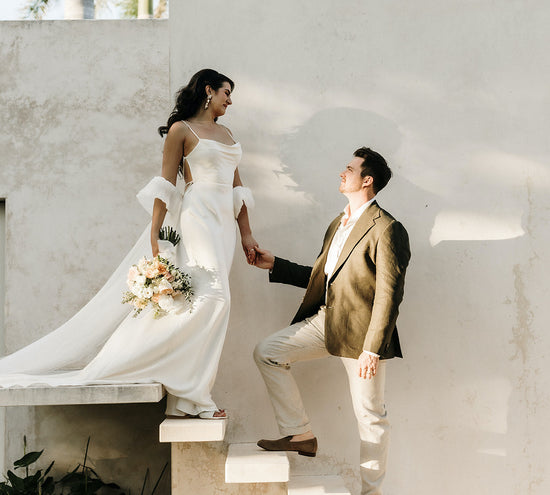 Whimsy Weddings: Sarah + Isaac
We all gasped when we saw pictures of Sarah + Isaac's Yucatán wedding on instagram. Nothing gets our team more excited than a Whimsy Bride!  Lucky for us, we reached out, and Sarah was kind enough to...
Read Me