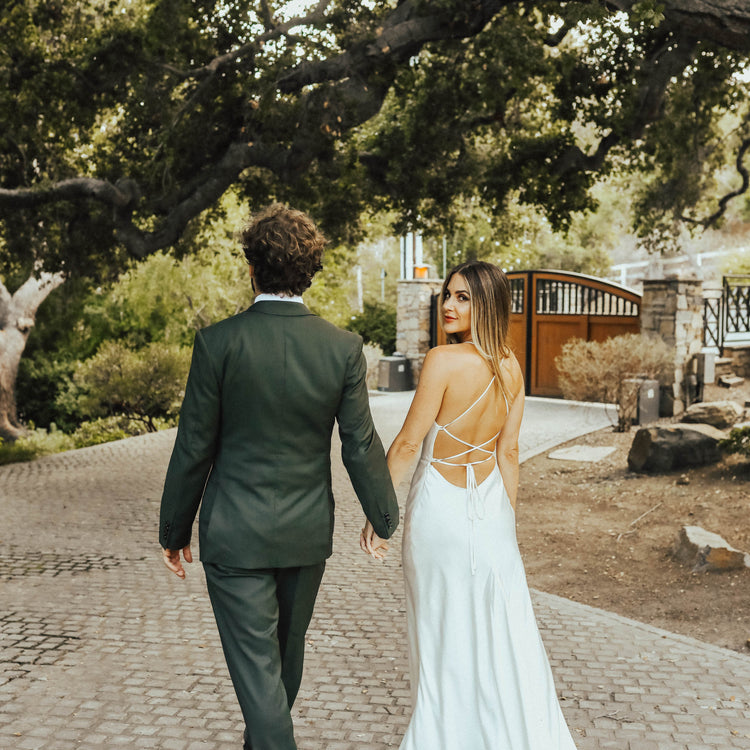 Our very own, Mrs. Dena Simpson. If you know Whimsy, you know Dena. She's our Director of Operations, Stylist on Set, at every sample sale + event. She's Rachel's right hand woman and best friend. It was only fitting that she was the first one to walk down the aisle in Whimsy. We are so grateful to have been able to share this day with her and Spencer. Cheers to the happy couple! 
Dena + Spencer's wedding took place September 3, 2022 at their family friends' gorgeous estate in the Pacific Palisades. She wore our
Bridgette Bridal Gown
 and several ladies in her bridal party wore Hunter Green Dresses from our
Wedding Collection
. Dena is a crafty lady and with the help of her bridesmaids took on the florals and lots of the execution herself. We asked her to share some of her experience. Scroll on down for all the advice and for dreamy photos from the day. 
Tell us about the happy couple! How did you two meet? How did he propose? 
Spencer and I met on a then super hip dating app called tinder 9 years ago. I hear this app isn't used in the same way anymore lol. 
On December 5th In the middle of the pandemic my now husband and I planned a trip to Joshua Tree for his B-day. We packed up the car with our dog and went camping in the cold but beautiful desert. We hung out during the day and at sunset while I was up on the rocks he pretended to set up the camera for a photo of us (he's a photographer so this isn't uncommon) he counted down the photo and then got on his knees (we got the whole thing on video). He proposed with a super unique ring with a few diamonds from my grandmother's ring, which was so incredible of him.
He brought a projector and tried to play the first movie we ever saw in theaters together, Her. Our neighbors were super loud so we couldn't hear much but it was the cutest gesture. Because we were in the desert we couldn't tell anyone until we left so we really just got to bask in the special moment with no distractions. 
How long did you have to plan? 
 I started planning my wedding about 7 months out from our date. Our wedding was held in a very dear friend's stunning backyard in Pacific Palisades. I feel like this was plenty of time, I never felt stressed as it allowed us to work on a few things a month without getting overwhelmed. 
What was the process like saying yes to your dress at Whimsy + Row?
I tried on a few dresses at other bridal shops, but ultimately decided the Whimsy and Row dress was the most me. The experience was incredible. We were able to bring in our own snacks and champagne (even though they provide champagne for all dress try-ons). I felt very at home and confident. After 3 other bridal appointments I said yes to the Whimsy dress!

You DIY'd a bunch of your wedding. How was that? Any tips? 
I never imagined my wedding any other way. We were on a tight budget and we also wanted it to feel very us. I highly recommend buying your alcohol from Costco (we saved big time). If you're looking to cut your floral cost down by 90% I highly suggest  going to your local wholesale flower market and having your friends help you put together the florals the days leading up to the wedding. Our Dj for the day was a dear friend and our other friend's band performed beautiful covers during dinner time. If you have friends who are artistic and want to help in anyway they can, let them! You can return the favor for their big day.
Are there any areas of your wedding that you wish you would/would not have splurged on? 
Yes and no. I did everything extremely budget friendly but wish I would have done a few extra things to make the decor pop a bit more. I also wish I would have ordered the right size tablecloths, but I don't think many people noticed luckily. I rented them a size too small (oops)!
The above butterfly decor was made by The Canyon Collective. The Cocktail Signage below was made by Dena's niece, Madison.  
What was your favorite memory from the day? 
Dancing! Dancing is my favorite thing to do (even though I am not good at it) with my new husband, friends, and family.
 What do you plan to do with your Wedding Dress now? 
I'd like to go on a big anniversary trip with my husband and kids one day where I can alter my wedding dress to be a bit more casual for the photos. That or save them for our kids.
  What did your bridesmaids wear? 
I chose different shades of green as my bridesmaid colors, because they didn't stand up there with me. It wasn't super important to me that all the dresses matched. I mostly just wanted them in something that made them feel beautiful. 4 out of the 7 bridesmaids wore whimsy and row. You can see in the photo below the gorgeous Fiona Dress, Ellis Dress, and the Danielle (coming soon).
Advice for future brides?  
Stop stressing! As long as you have good music, yummy food, and lots of alcohol everyone is going to have fun and absolutely no one notices the small things that you think went wrong. 
Thank you so much Dena for sharing your day with us! We are so thrilled that you were our very first Whimsy Bride. We wish you + Spencer all the love and happiness. 
Shop our Wedding Collection Here 
In loving memory of Porter
🤍
Read More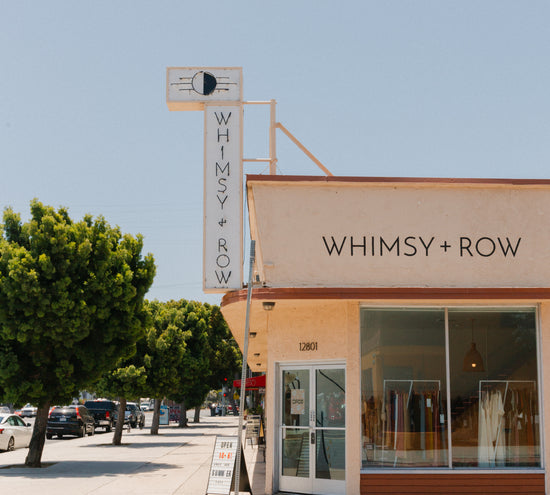 Small Biz Saturday Deals
In the spirit of Small Business Saturday, we've partnered with some of our favorite small brands to give you access to a special deal on their products. Shop small + support someone's dreams!       ...
Read Me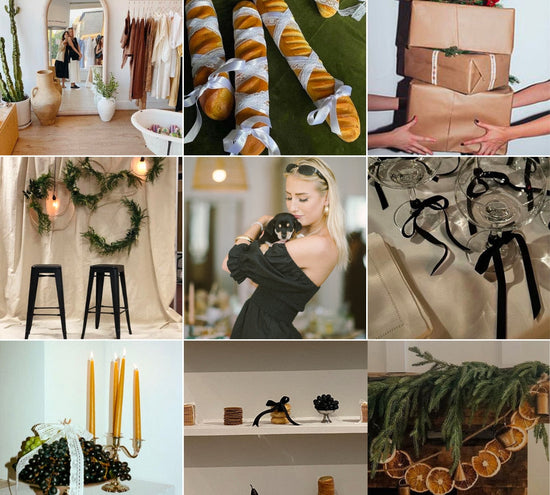 You're Invited! Annual Holiday Party
  Join us at the shop for our annual Holiday Party + dog adoption extravaganza! We are thrilled to be hosting Rover's Retreat. Holiday drinks will be flowing, vinyl will be spinning, and of course clothes and...
Read Me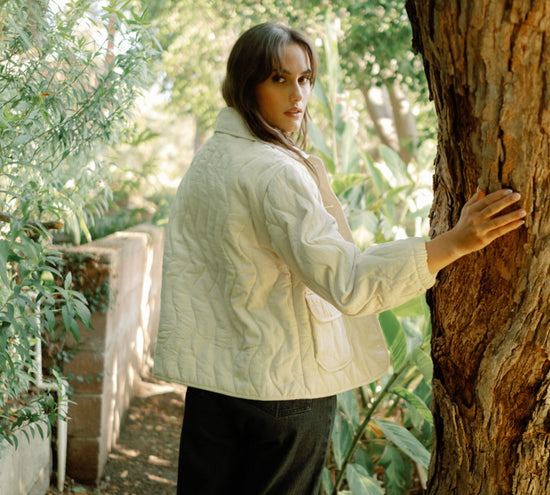 Lookbook: In The Yard
For cool crisp mornings,  foraging + long walks in the woods — discover our collection of Organic Cotton, quilted coats + sturdy denim to adventure in. Tap any image to shop, or view the whole collection...
Read Me