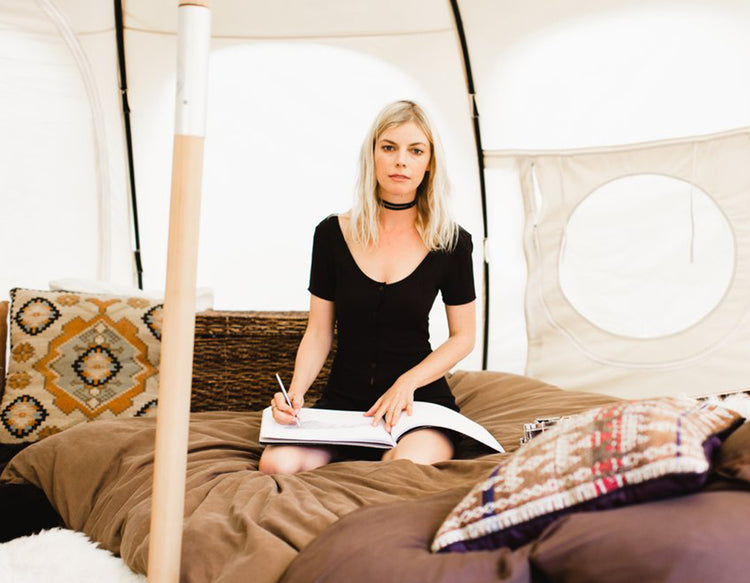 The second part of this lookbook highlights some of our favorite Fall and Winter styles. We'll walk you through them...Odessa starts her day in our favorite loungeware outfit - Striped Crop Longsleeve & Swing Cream Goucho Pants. She goes through her daily routine of Harlow Skin care Body Butter, Face Elixer, Rootfoot Essentail Oils, and throws them all in her Manos Zapotecas Clutch.
Her first outfit is the Knot Sisters Spade Tank, Fifth the Label Born Free Skirt and MIA Black Clogs, perfect for that 9am coffee meeting. Once back, she slips into her Nightshade Black Jumpsuit to sit down at the piano to get some ideas flowing. She is in good company with her Norden Ceramic Planter and Candles. Cruise our Decor Collection to view more handmade goods to fill your home. 
 Enclosed in a gorgeous tent and surrounded by hand crafted ethnic pillows, Odessa jots down a few lyrics. She sits pretty in her Black Amelia Button Down Dress and Yellow 108 Black Fedora. In the kitchen for her afternoon snack, she uses all handmade ceramics by Easy to Breathe. For a casual timeless look, she's wearing our Curator Matty Natural Tee with Fifth the Label Black Born Free Skirt.
Relaxing on the deck, Odessa is dressed in our favorite Ribbed Bodysuit paired with Capulet Suede Skirt and Nisolo Harper Chukka Oak Boot. Wearing our Knot Sisters Neilson Sweater, Fifth the Label Born Free Button Up Crop Top and Courtshop Dark Denim Skirt, she unwinds with a glass of wine and her guitar.
For her Late afternoon stroll, our eco-friendly Jane Maxi Dress in Gold is her go-to piece. Pairs well with out Dolce Vita Tessey Boots and Vintage Faux Fur Coat. Our Courtshop Denim Jacket is the perfect layering piece for those southern California nights. 
Stylist : Whimsy + Row (Rachel Temko)
Art Department : Rachel & Claire
Read More
Whimsy Weddings: Rachel + Steven
Our girl got married!!!  By girl, I mean — founder of Whimsy + Row, Eco-Warrior and amazing friend, @MamaRaich. It's safe to say this was the Whimsy-est Wedding there ever was!Rachel + Steven got married in Northern...
Read Me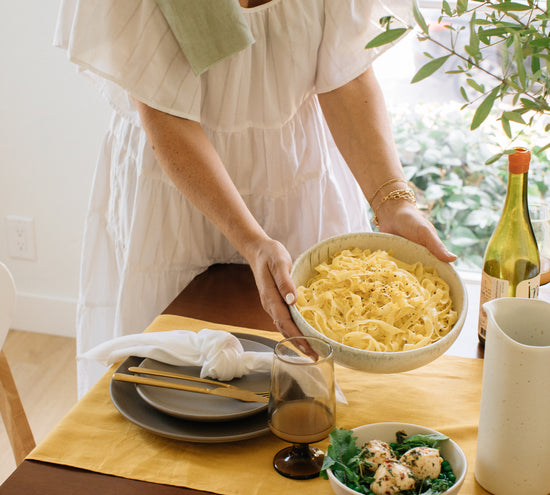 Recipe: Pasta Al Limone
If you think we launched a Home Collection, just so we could get together, eat pasta and take pictures, you're not totally wrong. (LOL!) The truth is — it was our our Junior Designer & Production Coordinator...
Read Me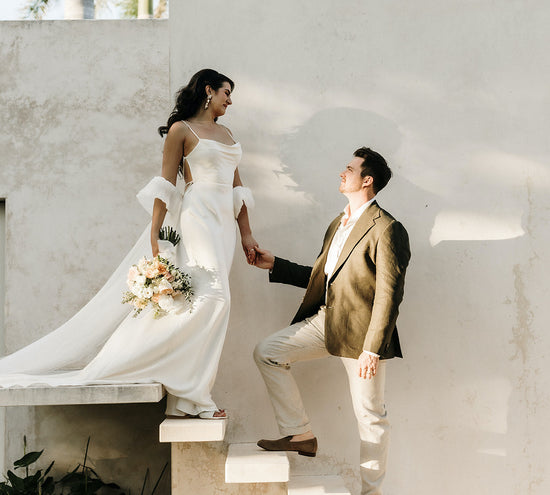 Whimsy Weddings: Sarah + Isaac
We all gasped when we saw pictures of Sarah + Isaac's Yucatán wedding on instagram. Nothing gets our team more excited than a Whimsy Bride!  Lucky for us, we reached out, and Sarah was kind enough to...
Read Me