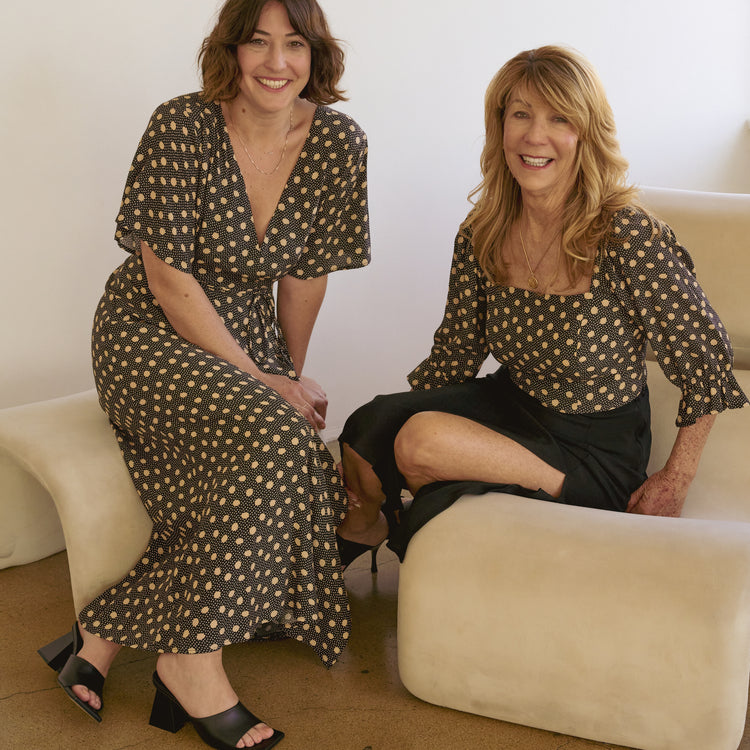 Rachel's mom Linda, has been an inspiration for Whimsy's since day one. This Mother's Day, we're celebrating her, shinning a little light on the style icon herself. Scroll on down, shop Linda's favorite Whimsy pieces and get to know her a little bit.
Linda in the Eden Crop + Finn Skirt 
What is your favorite Whimsy piece?
My favorite whimsy piece (of all time) is really hard to choose. Currently I wear the Stevie two tone cream set everyday. I love to pair the Norah pants with the Lennon Crop Top and the Lena top in Lady Print. BUT if I have to choose the one thing that's most versatile for my life is the Rachel Dress. Please bring her back in more colors! My current favorite style has to be the Eden Top in Mauve Floral, because it's super flattering and makes me feel feminine.
Where did your sense of style come from?
I was raised in San Francisco and being aware of my surroundings, I cultivated a cosmopolitan city style.
Rachel in the
Joni Dress
+ Linda in the Sidney Dress (coming soon!)
What was your reaction to Rachel telling you she was starting Whimsy?
Well it was actually my idea! In my career I was an entrepreneur, I owned and operated a chain of hair salons called Total Concern. It's always been our family mentality to start our own businesses. So we encouraged Rachel to build her own.
Rachel in the Lola Wrap Dress and Linda in the Eden Crop + Charlie Skirt 
What's the best advice your mom shared with you?
"Embrace spontaneity and make sure everyone is well fed."  
Rachel, what's the best advice you've received from Linda? 
"Nothing good happens if you're out after midnight."
Read More
Whimsy Weddings: Rachel + Steven
Our girl got married!!!  By girl, I mean — founder of Whimsy + Row, Eco-Warrior and amazing friend, @MamaRaich. It's safe to say this was the Whimsy-est Wedding there ever was!Rachel + Steven got married in Northern...
Read Me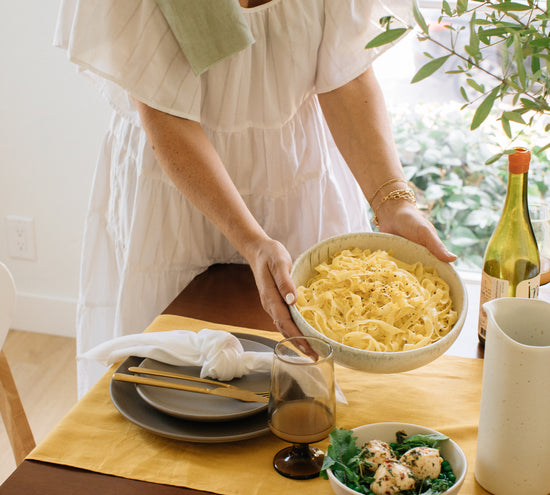 Recipe: Pasta Al Limone
If you think we launched a Home Collection, just so we could get together, eat pasta and take pictures, you're not totally wrong. (LOL!) The truth is — it was our our Junior Designer & Production Coordinator...
Read Me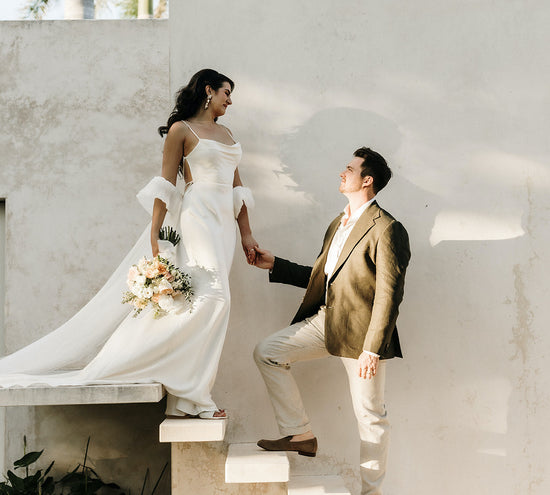 Whimsy Weddings: Sarah + Isaac
We all gasped when we saw pictures of Sarah + Isaac's Yucatán wedding on instagram. Nothing gets our team more excited than a Whimsy Bride!  Lucky for us, we reached out, and Sarah was kind enough to...
Read Me