How to Stay Sustainable During a Pandemic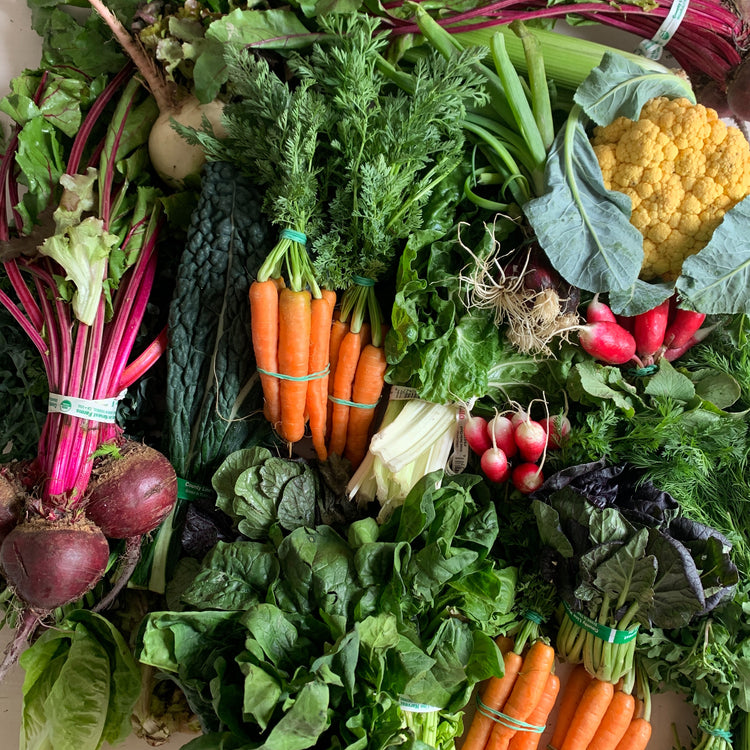 Most of us hoped things would be different by now. Maybe we knew, deep down, that the COVID-19 pandemic wouldn't be eradicated this summer, but we crossed our fingers (and toes.) With this extended pause on what we used to consider normal life, we've found ourselves in a prime period for reflecting on life's big questions. For many of us, that includes how we will tackle climate change. The longer the pandemic rages on, the harder it seems to justify aggressive zero waste practices over everything else. "Amid understandable concern over health and hygiene during the pandemic, the problem of disposable plastics has taken a back seat," the World Economic Forum asserted in April. Although many have delighted in criticizing the sustainability movement for these changes, we would all be fools not to meet this unprecedented time with a sense of urgency.
Still, all hope isn't lost. We may be utilizing more single use and chemically enhanced products, yet there is still so much we can and are accomplishing. Instead of fretting about these health-conscious decisions, we have the opportunity to put our energy into small, medium, and large scale actions for the environment. Only with a holistic attack on this global issue will we help our earth and save each other. I have faith in us.
Small: Do It Yourself
Individual action is important when it comes to sustainability, as it helps us to stay focused on the larger issue of climate change day in and day out. During this time when we can't always avoid plastic or excess packaging, there are still ways in which we can remain conscious consumers. Solitaire Townsend, a contributor to Forbes, reported that "the behaviours most searched for online today are exactly the ones environmentalists have been championing for years." Home composting, gardening, and learning to knit have been on the top of many citizen's to-learn lists recently and these practices could have a lasting impact on consumer habits. In addition, actions like cooking at home or attending virtual workout classes not only strengthen mental and physical health, but can reduce the environmental impact of our daily actions. If supporting local restaurants is important to you right now, look for those committed to operating without plastic through the website Plastic Free Places, are a small business, or simply ask for no utensils when having food delivered. There are still so many ways to stay conscious from home.
Large: Systemic Change
As we focus on our daily consumption habits, we can't forget that structural change must occur if we are going to have a real chance. Naomi Klein revealed this hard truth in a commencement speech for the College of Atlantic class of 2015, saying that "the very idea that we—as atomized individuals, even lots of atomized individuals—could play a significant part in stabilizing the planet's climate system, or changing the global economy, is objectively nuts. We can only meet this tremendous challenge to­gether. As part of a massive and organized global movement." 
At the end of the day, don't sweat the small stuff. Instead, turn your attention to the larger issues. During the months at home we've assumed there'd be a lowering in carbon emissions, and although smog is clearing, according to Grist, 2020 is on track to be the warmest year in recorded history. We can't become so consumed by our individual actions that we forget to demand large-scale reform, such as our country divesting from fossil fuels. Stay informed through a variety of news sources so that you can confidently vote for those who will help to fight climate change, keep track of important policies being debated, and join your fellow US citizens in working towards a positive future for all.
Medium: Get Involved Locally
If systemic change sounds wildly daunting, you're not alone. A great way to become better acquainted with systemic issues is by looking at your city as a microcosm. Start with local legislation and hold your elected officials accountable when it comes to plastic bag bans, car emissions policies, or other regional climate beneficial efforts. Work for everyone in your city to reap the benefits of a cleaner city, country, and world. Environmental racism is real and we now have plenty of time to put our mind and money where our mouth is. Taking care of the community immediately around us changes the way we operate in the world at large. There is a lot of work to be done and we can only carry it out together.
Read More
Whimsy Weddings: Rachel + Steven
Our girl got married!!!  By girl, I mean — founder of Whimsy + Row, Eco-Warrior and amazing friend, @MamaRaich. It's safe to say this was the Whimsy-est Wedding there ever was!Rachel + Steven got married in Northern...
Read Me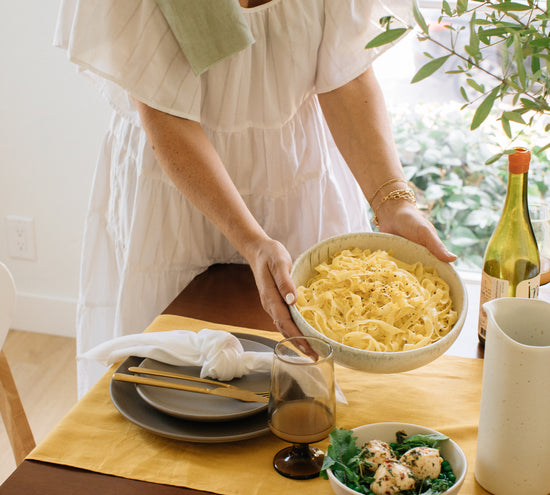 Recipe: Pasta Al Limone
If you think we launched a Home Collection, just so we could get together, eat pasta and take pictures, you're not totally wrong. (LOL!) The truth is — it was our our Junior Designer & Production Coordinator...
Read Me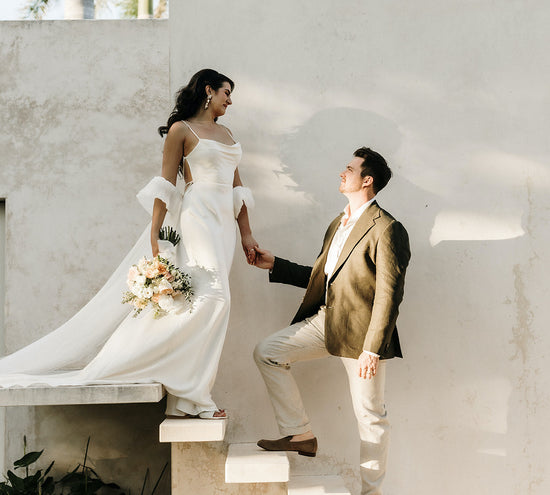 Whimsy Weddings: Sarah + Isaac
We all gasped when we saw pictures of Sarah + Isaac's Yucatán wedding on instagram. Nothing gets our team more excited than a Whimsy Bride!  Lucky for us, we reached out, and Sarah was kind enough to...
Read Me