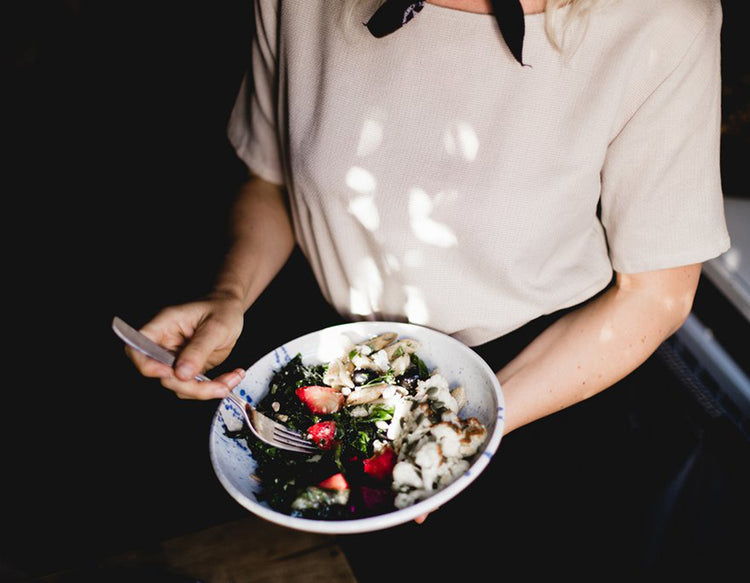 January is already over and I don't know about you, but keeping up with our healthy 2017 goals is getting harder and harder. So let's set realistic goals that are so much easier not to break. Genius!
1. Let's cook more. When you cook at home you know exactly what's going into your meal. None of that funky stuff, just whole ingredients. 
Here are a few recipes that are easy to make and oh so tasty...
Grain Bowl with Roasted Veggies :
Ingredients
1 cup quinoa
2 cups low sodium chicken stock
2 red beets & 2 yellow beets
1 bunch cauliflower
1 spoonful Ghee or olive oil
Salt & pepper
Garlic Powder
Pepitas
Parsley 
Quinoa : Boil two cups low sodium chicken stock. Once boiled add 1 cup quinoa, salt, pepper and cover. Should take 30-40 min. 
Cauliflower & Beets : Preheat oven to 375º. Peel the beets. Chop up both the cauliflower and beets into bite size pieces and place onto tin foil lined baking sheet. Keep them separated or on separate sheets. Drizzle with ghee or olive oil and sprinkle garlic powder, salt and pepper. Cook for about 10 min - turn them over and stick back in. Cook for another 10 min or until tender. Once finished toss some chopped parsley and pepitas on top. 
 Pesto Lentil or Chickpea Pasta with Olives :
Ingredients
Basil

Pine nuts

1 garlic clove
Parmesan
Olive Oil
Olives
Salt & Pepper
First things first, boil the water. Once boiled add a pinch of salt and the pasta. Cook pasta until al dente. When finished, drain. Meanwhile, combine torn basil leaves, pine nuts, chopped garlic, olive oil, parm, salt & pepper into a food processor. Blend. Add the pesto to the pasta, toss in some olives, salt & pepper and serve.
Kale Salad with Strawberries : 
Ingredients 
Bundle of lacianto kale
Olive oil
Lemon
Garlic
Shallot
Dijon mustard
Whole grain mustard
White wine vinegar
Strawberries
Marcona almonds
Salt & pepper
Wash the kale, pat it dry with a paper towel. Cut up into bite size pieces. On cutting board, drizzle olive oil. Massage each piece of kale to be covered in the olive oil. Put into large mixing bowl. Grab the strawberries, chop off the top and quarter into bite size pieces. Do a rough chop of the marcona almonds. Add both to the the mixing bowl.
For the dressing : Add 1 chopped garlic clove, 1/2 tbsp of vinegar, juice from 1/2 of a lemon, 1/2 tbsp Dijon mustard, 1/2 tbsp whole grain mustard, 1/2 finely chopped shallot, and 1 tbsp. olive oil into a mason jar. Close the lid and shake well.
Drizzle dressing on salad, toss and serve.
Paleo Roasted Organic Herb Chicken :
Ingredients
3 Tbsp butter or ghee
4 minced garlic cloves
1 tsp fresh rosemary, finely chopped
1 tsp fresh thyme, finely chopped
1 tsp fresh sage, finely chopped
1 whole organic chicken (about 4 lbs.) cleaned and dried
2 lemons, zest both
1 small onion, cut into wedges
Salt, pepper and paprika to taste
Instructions
Preheat oven to 425º
In a bowl, mix the ghee, garlic, thyme, rosemary, sage and zest from 2 lemons. Add a little salt and pepper.
Place chicken (patted dry) inside a roasting pan
Slice one of the lemons and place inside cavity along with the onion wedges and a few extra rosemary and thyme sprigs
Tie legs together (optional) with water-soaked twine
Brush chicken with the butter/ghee and seasoning mixture you prepared in the bowl. Place some under the breast skin if possible.
Squeeze juice from the remaining lemon over the chicken, then sprinkle skin with salt, pepper and a little paprika
Roast in 425º F oven for about 1 hour (using a meat thermometer is highly recommended – when the temperature reaches 165º F, the chicken is cooked through)
Remove from oven and let rest for 15 minutes before slicing and serving
Tip : If skin starts to darken too much while roasting, lightly place aluminum foil over the chicken and leave in place for the remainder of the cooking time
Feeling lazy? Just pick up an organic one from the market :)
Healthy tips -
Use Ghee instead of butter or olive oil
Use Amino Acids instead of soy sauce
Eat Almond butter instead of peanut butter
Try to buy just organic
Click here to get a closer look at our kitchen goods.
2. Buy less of the bad stuff. Limit your amount of bread, grains, sugar, french fries and cheese. I know, all the best foods :(. Not saying to completely cut them out, but don't eat as much. The thought is, the less we eat of them the better we feel and the better they taste! 
3. Read your labels. Being in the know can really help influence what you put in and on your body. Rule of thumb for food & beauty products - if it has more than 4 ingredients or contain words you don't understand, probably shouldn't be consuming it.
Click here to take a gander at all our organic beauty products!
4. An hour for you. I think taking an hour out of your day to be you, without a phone, whether it's stretching, walking, running, or doing a workout class, you need that time to focus on yourself and your body. I get it, It's a struggle everyday when your busy AF and it's hard to make the time for it. Doing this will release stress and anxiety, I promise!
5. Drink more tea, less wine. Try to cut down your drinking to just the weekends. If you slip up I won't tell.
Check out our tea blends here. 
6. Quality over Quantity. Buy classic and well-made styles that will last you a lifetime.
Explore our

Eco-Friendly Collection

 here. 
We got this!!
Read More
Whimsy Weddings: Rachel + Steven
Our girl got married!!!  By girl, I mean — founder of Whimsy + Row, Eco-Warrior and amazing friend, @MamaRaich. It's safe to say this was the Whimsy-est Wedding there ever was!Rachel + Steven got married in Northern...
Read Me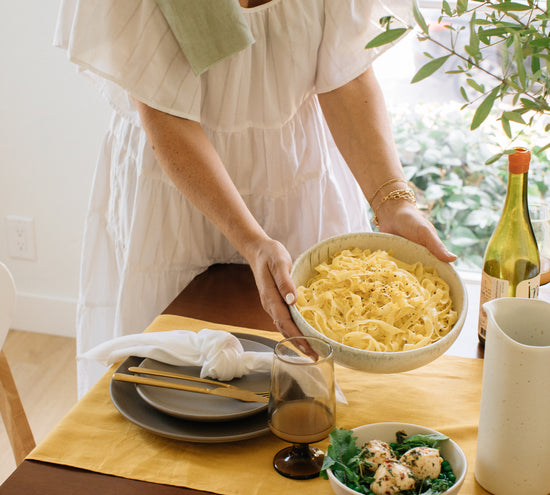 Recipe: Pasta Al Limone
If you think we launched a Home Collection, just so we could get together, eat pasta and take pictures, you're not totally wrong. (LOL!) The truth is — it was our our Junior Designer & Production Coordinator...
Read Me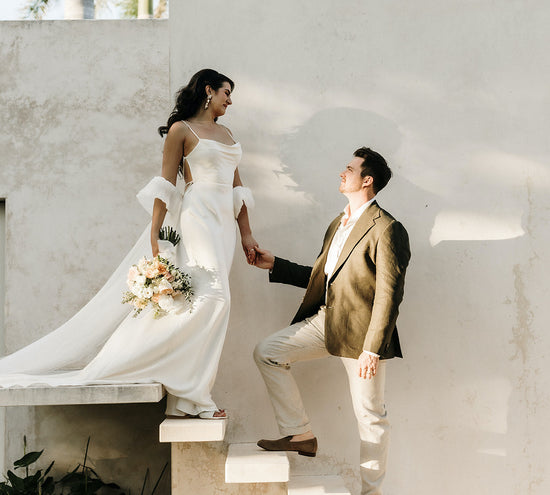 Whimsy Weddings: Sarah + Isaac
We all gasped when we saw pictures of Sarah + Isaac's Yucatán wedding on instagram. Nothing gets our team more excited than a Whimsy Bride!  Lucky for us, we reached out, and Sarah was kind enough to...
Read Me