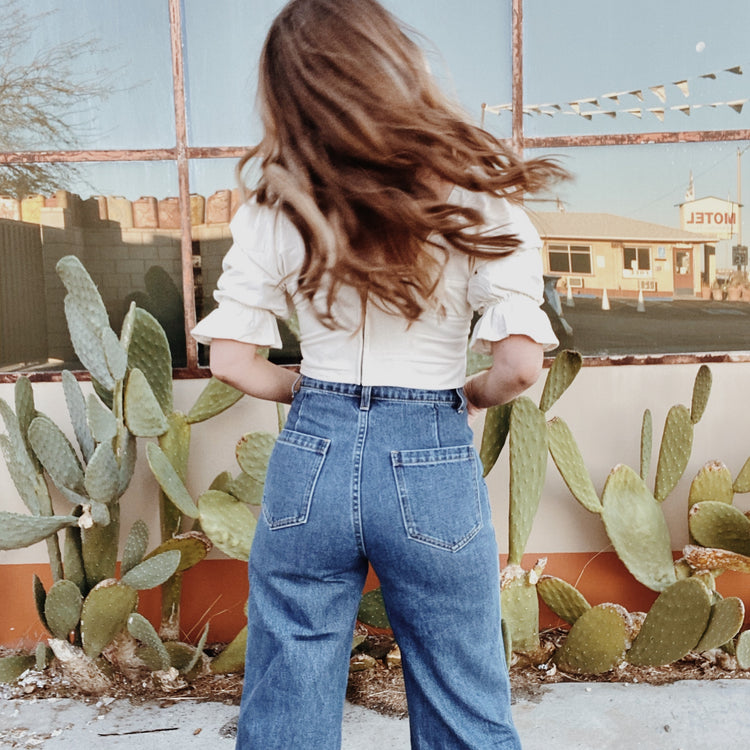 Have you heard?! We launched an Organic Denim Collection!👖
To start our denim journey, we took our most-loved styles, the Jordan Jacket and Flora Pant, and gave them a sustainable denim upgrade. Made with 100% organic cotton, recycled water, and low impact dyes, our denim collection is carbon neutral and Oeko Tex Certified. 
We sent a few of our Whimsy babes the collection and asked them to share their honest thoughts on the fit and feel of our denim, and to put their personal styling touch on the pieces. Here are their #denimdiaries. 
Wearing: The Flora Pant in Dark Denim and the Eden Top in Cream 
"I was already in love with the Flora Pants to begin with... the fit, the pocket placement, the rise, the button detail... I am beyond happy to have them in denim to complete my collection. They are an effortless staple and the perfect length for shorter gals! Will be wearing these all year round."
 Emily Tartaglia 
Wearing: The Jordan Jacket in Light Blue Denim and the Flora Pant in Sage 
"Just like my other Whimsy + Row pieces, I love the wearability of the new denim -- comfy enough to wear at home and an easy throw on while heading out the door!"
Wearing: The Jordan Jacket in Dark Blue Denim and the Jade Dress in Shiny Hunter Green 
"The best part about a work coat is that you don't have to carry around a purse!  Loving these pockets."
Wearing: The Flora Pant in Dark Blue Denim and the Emilia Jacket in Black 
"I'm obsessed with Whimsy + Row's new denim collection! The jeans are SO soft and I love that they are bringing back the flared style in a modern and sustainable way."
Be sure to give these gals a follow and shop their looks here. And use the tag #WhimsyDoesDenim on Instagram so we can feature your cute self too! 
Read More
Whimsy Weddings: Rachel + Steven
Our girl got married!!!  By girl, I mean — founder of Whimsy + Row, Eco-Warrior and amazing friend, @MamaRaich. It's safe to say this was the Whimsy-est Wedding there ever was!Rachel + Steven got married in Northern...
Read Me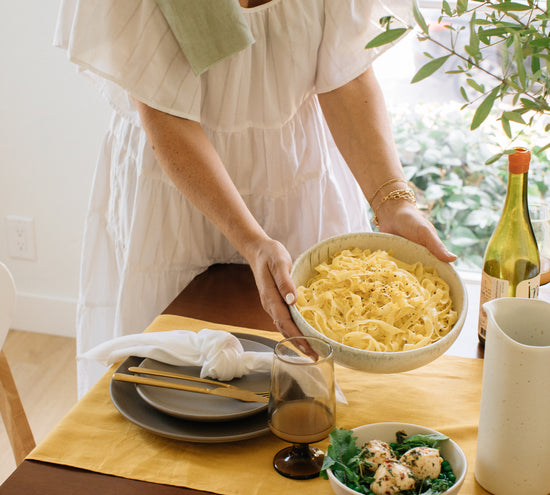 Recipe: Pasta Al Limone
If you think we launched a Home Collection, just so we could get together, eat pasta and take pictures, you're not totally wrong. (LOL!) The truth is — it was our our Junior Designer & Production Coordinator...
Read Me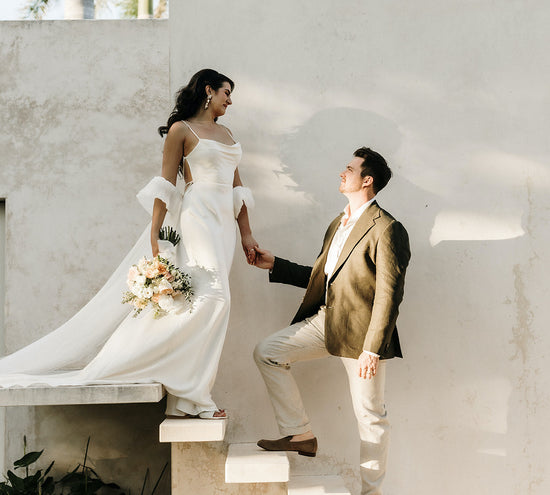 Whimsy Weddings: Sarah + Isaac
We all gasped when we saw pictures of Sarah + Isaac's Yucatán wedding on instagram. Nothing gets our team more excited than a Whimsy Bride!  Lucky for us, we reached out, and Sarah was kind enough to...
Read Me