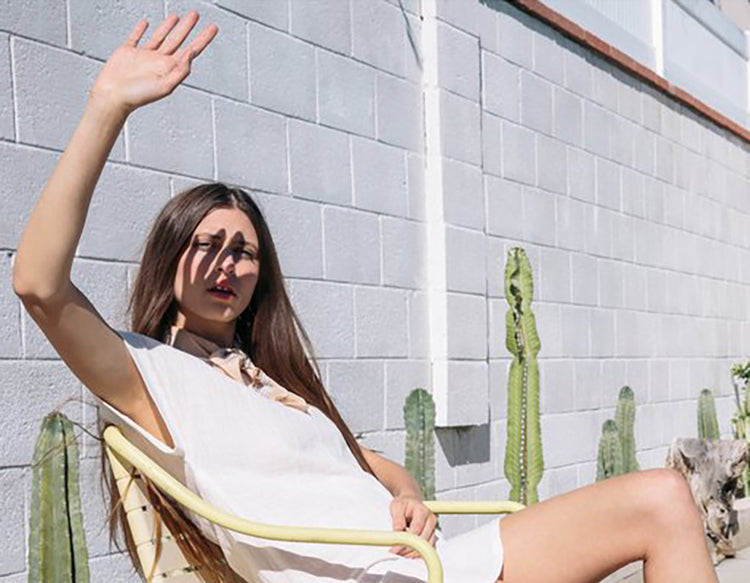 Sustainability, style and comfort - our top priorities. Why you ask? Because for us, we are not going to settle for clothing that is anything less. This latest collection we worked hard to make sure these three goals were achieved and we succeeded!
The main reason we dove into making clothing is because we felt there was a lack of eco-conscious brands that aligned with our aesthetic. We took everything we learned from our last collection and tightened our focus. All our styles are handmade in a small factory (we visit everyday) in Los Angeles using dead-stock recycled fabric.
Dead-stock fabric is excess or slightly flawed fabric from huge companies. Since we make small quantities, we can work around imperfections, and use unwanted fabric to create really stunning pieces that are well-crafted and made to last! Even our labels, tags and packaging are made from recycled materials.
This lookbook shoot was by far our favorite! We teamed up with photographer/friend Kate Rentz to create a unique shoot that combined our love for nature and good design. The shoot took place at Vasquez Rocks and The Valley Capri house in North Hollywood, a well styled home filled with vintage furniture. Even our hair and make-up was organic and cruelty free, we worked with Dianna Esteves Vieira who specializes in organic beauty. A big thank you to our team, our vision is finally fully coming to life!
Click on any of the photos to shop the collection!!
Photographer: Kate Rentz
Model : Brianna Falcone
Stylist : Whimsy + Row (Rachel Temko)
Asisstant Stylists : Corrine Snow & Jacklyn Dewenter
HMU : Dianna Esteves Vieira
Read More
Whimsy Weddings: Rachel + Steven
Our girl got married!!!  By girl, I mean — founder of Whimsy + Row, Eco-Warrior and amazing friend, @MamaRaich. It's safe to say this was the Whimsy-est Wedding there ever was!Rachel + Steven got married in Northern...
Read Me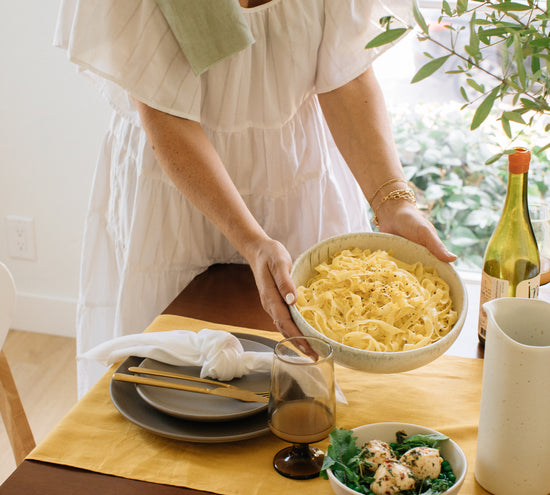 Recipe: Pasta Al Limone
If you think we launched a Home Collection, just so we could get together, eat pasta and take pictures, you're not totally wrong. (LOL!) The truth is — it was our our Junior Designer & Production Coordinator...
Read Me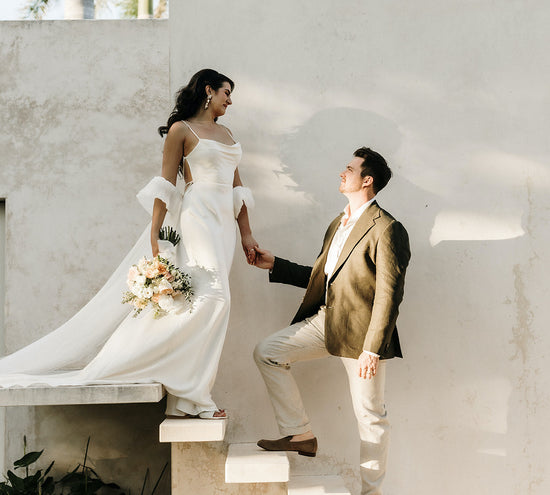 Whimsy Weddings: Sarah + Isaac
We all gasped when we saw pictures of Sarah + Isaac's Yucatán wedding on instagram. Nothing gets our team more excited than a Whimsy Bride!  Lucky for us, we reached out, and Sarah was kind enough to...
Read Me