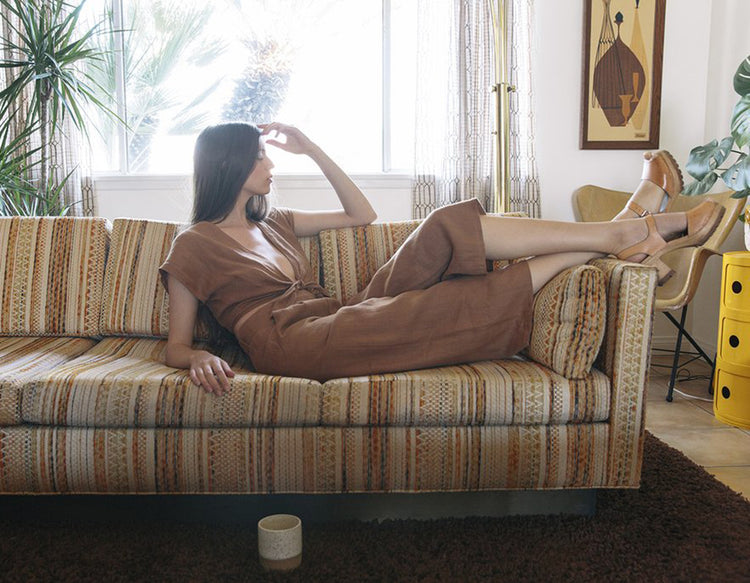 A top bottom combo, you can't live without! Seriously though, it's so comfortable you will want to live in it! When we dreamed up the Valentina Set we knew it had to be in all Linen. It was like a needle in a hay stack, searching through rolls of fabrics to find the best ones. We cut it in four different colorways, all super unique and high quality.
So to give you the low down, The Valentina set is two pieces:
1 - A versatile wrap top which can be worn in front or back depending on your mood. We specifically designed it this way, because we know how important it is to have options. Wear the Valentina with the tie in front for the coveted deep-v plunge, or reverse for a timeless high neck and peek-a-boo back. It's a win-win situation all around.
2 - A wide leg, cropped trouser designed for maximum comfort and effortless style. Featuring a stretch waist and tie-belt, the Valentina pant is meant to sit right at the high waist to accentuate your frame in the most sophisticated of ways. Oh, and did we mention she comes with pockets? We also had practicality in mind when dreaming up this set.
Food For Thought:
It takes 1.5 yards to create the Valentina pant & 3/4 yards for the top. Essentially, all of the excess fabric from the pants are used to create the top, so nothing goes to waste. Plus, it gets better! We didn't use any water to create them. So you can wear the Valentina set rest assured that it is as gentle on our environment as it is on your skin.
Made of 100% Recycled Linen, the Valentina will only get better with age. With each wash, the linen becomes softer and more absorbent. Making it the best companion for warmer seasons when you'll spend all of your days adventuring and chasing the sun. The more worn, the better; so wear it well and wear it plenty.
Pro-tip: When it comes to giving your linen a bath, opt for a hand or machine wash and let air dry. Not only is this better for our environment than a trip to the dry-cleaners, but your linen will also thank you.
You Should Know:
When we find fabric we utilize only what is available, and we never create more fabric to add to the wastage problem. We'd much rather minimize our eco footprint and create a piece that we know is practical both in process and design.
Speaking of eco-footprints, did you know that that the textile industry is the #1 polluter of water on the planet? Thousands of gallons of unregulated, untreated water are discharged into our environment everyday. That's not all though, up to 2,000 chemicals are used in textile processing, and many are known to be harmful to both human and animal health. While some of these chemicals evaporate or are dissolved in water, these toxic chemicals often lay residual in the fibers of our clothes, and have been responsible for causing many health problems.
So fear not, because you can wear Whimsy+Row knowing that our process requires no water waste and less pollution to our Earth.
Handmade in LA from recycled fabric!
Read More
Whimsy Weddings: Rachel + Steven
Our girl got married!!!  By girl, I mean — founder of Whimsy + Row, Eco-Warrior and amazing friend, @MamaRaich. It's safe to say this was the Whimsy-est Wedding there ever was!Rachel + Steven got married in Northern...
Read Me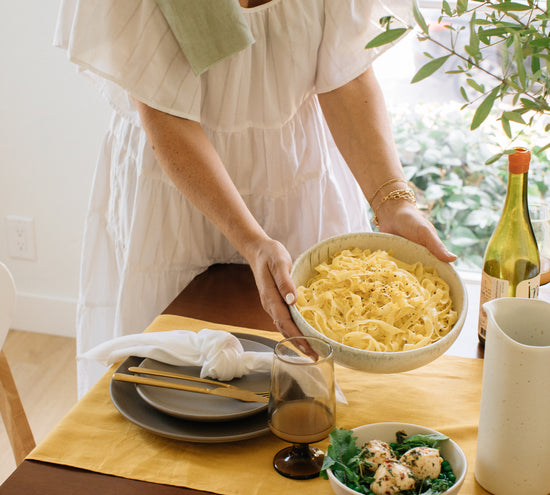 Recipe: Pasta Al Limone
If you think we launched a Home Collection, just so we could get together, eat pasta and take pictures, you're not totally wrong. (LOL!) The truth is — it was our our Junior Designer & Production Coordinator...
Read Me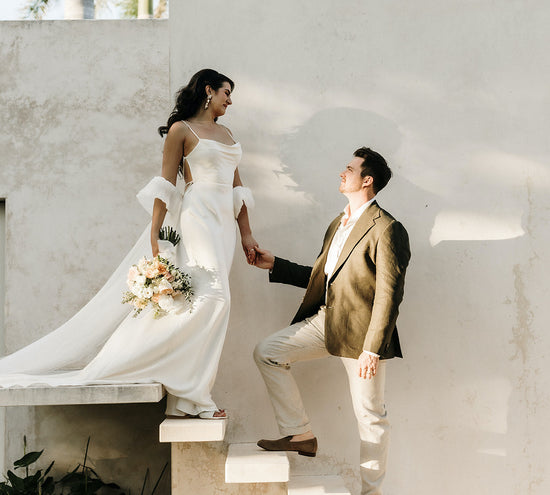 Whimsy Weddings: Sarah + Isaac
We all gasped when we saw pictures of Sarah + Isaac's Yucatán wedding on instagram. Nothing gets our team more excited than a Whimsy Bride!  Lucky for us, we reached out, and Sarah was kind enough to...
Read Me