Meet the Designer — Sonja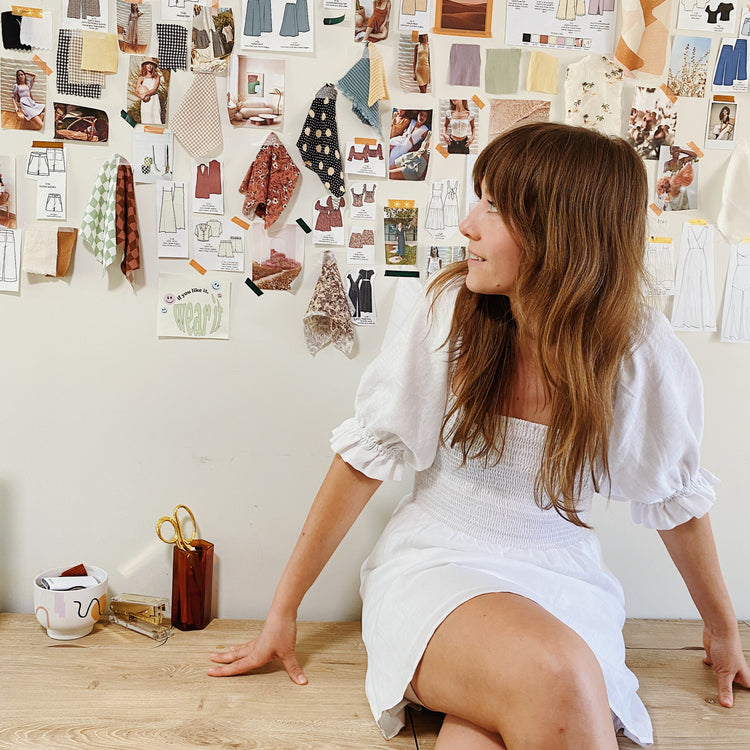 As our Spring styles begin to launch, we wanted to introduce you to the woman behind all the new designs. Meet Sonja! Extremely talented designer, entrepreneur, glowing mama, all around kind person and so much more!
She's thoughtful when designing — emphasizing practicality, which draws from her experience as a new mom. Us California ladies (and minimalists) can really get behind her focus on versatile, non-seasonal clothing too. Having lived on both coasts, Sonja's aesthetic is a blend of NYC's city cool and LA's laid back vibes — making her the perfect Whimsy Woman. 
But enough from us — get to know Sonja through the Q+A below. 
Don't feel like reading? That's okay, Shop Sonja's designs here. 
Where are you from and what inspired you to work in the fashion industry?
I grew up in a small town in Minnesota before making my way to NYC and now L.A. From a young age I was really into drawing and making things. A neighbor taught me how to sew, and an aunt was really influential to me with her love of fashion.  By high school I was illustrating and making crazy things to wear inspired by pages I tore out of Vogue.
When the time came to choose a career path, I decided that being a designer was exactly what I wanted to do. My parents were thoughtful in telling me that I could do whatever I wanted, "as long as you find a way to do it" - and so I just went all in toward making that dream happen. 
Sonja in the Josie Dress (COMING SOON!)
What's it like being a designer in the sustainable marketplace? Do you find it challenging and/or exciting?
Both! I've always been a self-identified tree hugger, but when I was just starting out my career in fashion, I didn't know how to weave my love of nature into what I was doing. Just around the time I was having a real internal struggle (what am I doing as a designer if everything fashion stands for is so against my personal values?), I learned about other brands who were addressing fashion's impact head on - and were finding a consumer who actually cared too. 
Fast forward to today, there is so much opportunity to do things in a better way. There are new low-impact fabrics coming out, and vendors getting on board with increased pay. There is - and always will be - room for improvement, but now you feel momentum instead of struggle, and a certainty that things are only going to improve from here the more we collectively work toward doing just that. 
Sketch of the Lori Dress (COMING SOON!)
When you are designing a new season, where do you look for inspiration?
After we talk about the mood for the season and what we're hoping to wear, my first stop is often my own stash of vintage. I can never get enough! I also pay attention to what new and fun things people are wearing in real life (I have my favorite spots in NELA, and travel is always good!), and listen to what our customers are saying. What was loved from past seasons and how do we make it new? What's missing from their closets? Pinterest is a great resource for gathering imagery to support and share your ideas. Occasionally I get ideas from what feels like out of nowhere. For some people that's in the shower. For me it's over coffee and croissants. 
Sonja in the Sonja Dress
What's the most enjoyable part of the design process?
Outwardly it's our design meetings and fittings. Dreaming up what we'll make and then actually seeing it become real. The Whimsy team is so top notch and really enjoyable to work with. When it's just me, I enjoy the time spent with pencil to paper. Drawing out ideas and seeing them at the beginning of everything is pure joy. 

Sonja in the Maria Bodysuit + Flora Pants
What's your fav piece out of the 2022 Spring Summer collection and why?
I can't pick one so here's my capsule wardrobe: The Sonja Dress because I know I'll be wearing this every day. The Sydney Dress too for the same reason, and because the Tencel gingham looks and feels amazing in the heat. The Flora Pant and Hayden jacket worn together. I'm also dying for our new straight leg Farrah Pant to come out. The fit is perfect. I'd wear it with the Stella Top, Nicole Top, or Eden Top, on rotation. 
Sonja in the Loni Dress in White Linen (COMING SOON!)
What's one of your favorite pieces you've designed for Whimsy? 
Ooh I have to say our new Brigitte Gown for the bride. It's an absolute stunner. I don't want to give it away though, so you'll have to wait just a little longer to see :)
OH! And if you like what Sonja has designed for Whimsy, you'll love her personal line too — NERANESE! 
Read More
Whimsy Weddings: Rachel + Steven
Our girl got married!!!  By girl, I mean — founder of Whimsy + Row, Eco-Warrior and amazing friend, @MamaRaich. It's safe to say this was the Whimsy-est Wedding there ever was!Rachel + Steven got married in Northern...
Read Me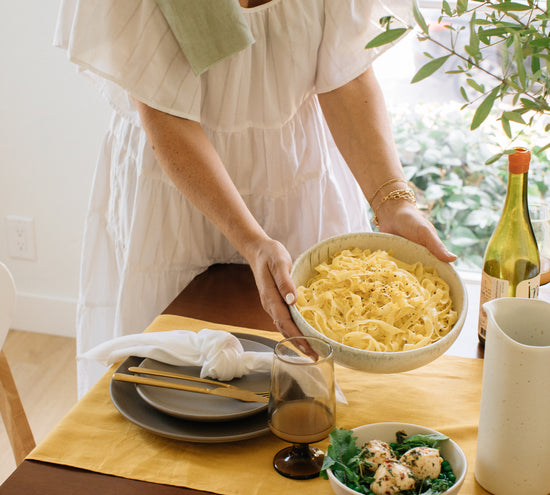 Recipe: Pasta Al Limone
If you think we launched a Home Collection, just so we could get together, eat pasta and take pictures, you're not totally wrong. (LOL!) The truth is — it was our our Junior Designer & Production Coordinator...
Read Me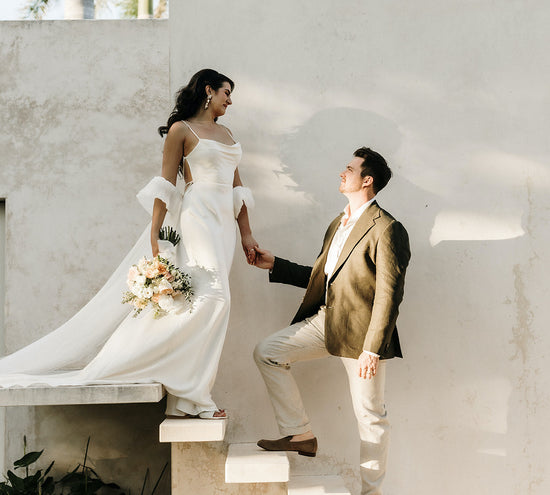 Whimsy Weddings: Sarah + Isaac
We all gasped when we saw pictures of Sarah + Isaac's Yucatán wedding on instagram. Nothing gets our team more excited than a Whimsy Bride!  Lucky for us, we reached out, and Sarah was kind enough to...
Read Me