Founder's Note : Plastic Free July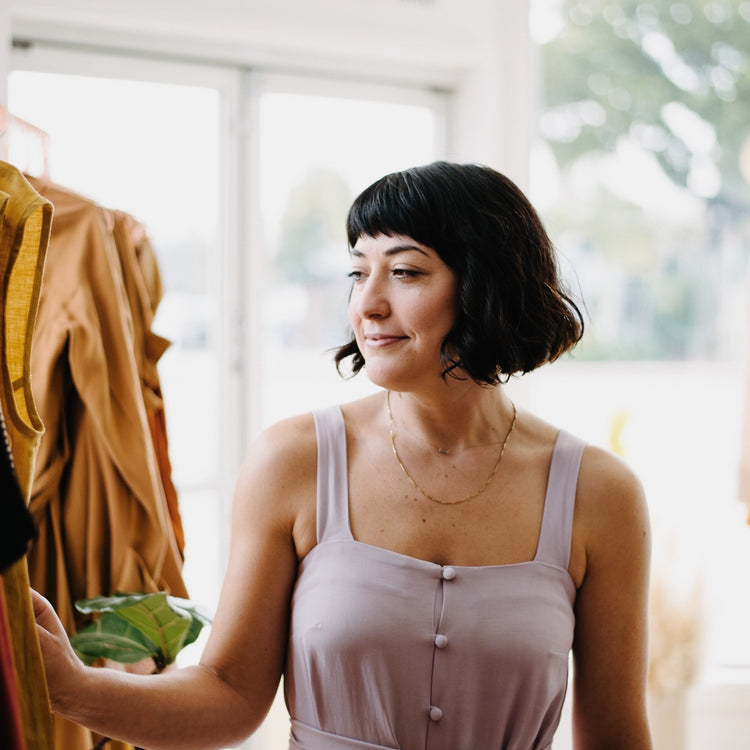 Hi friends, It's me Rach!
I've been a little trashier than I'd hoped this Plastic Free July. Before the pandemic, I was on a roll — but with our current times, it's extremely difficult to be plastic-free. All restaurants are forced to put everything in plastic, you can't bring your reusables anywhere, buying in bulk to reduce our exposure increases plastic use and everyone is wearing disposable masks (choose washable masks friends, we want more jellyfish in the ocean than masks please!). I've been really hard on myself for not living my values, here I am preaching to live sustainably when I'm struggling to do it myself. I decided though, all I can do is my best and strive every day to do better.
Our health, safety, and well being are the most important. Mentally and physically. Supporting our community is vital for our economy. If that means being flexible to keep myself and the community safe, I think that's ok. We can still help keep our favorite restaurants, bars, and shops thriving and not throw all our values out the window. I've been reusing my single-use plastic as much as possible and when I am ready to part with my collection I plan on recycling with Zero Waste Box from Terra Cycle.
Not trying to overwhelm you, but these facts put things into perspective for me. 
Every year, 8 million metric tons of plastics enter our ocean on top of the estimated 150 million metric tons that currently circulate our marine environment
The average American consumes more than 70,000 particles of microplastics per year. 
Another contributor to my waste this month was my move, yes I am a LA east sider now. Hello Highland Park! Luckily my Fiance's parents just moved, so we were able to reuse their recycled boxes and materials that we then recycled. BUT with moving comes purging and most donation centers are not accepting. Unfortunately many items we donate end up in landfills, so I will be using Tabee (recycling/donation app), Thread Up, Soles 4 souls, Earth911 and Smart ASN. Americans make about 4.5 pounds of trash per person per day, every effort to minimize our waste helps! We have the power to help our ecosystem even if they are small steps. 
There's always tomorrow - I plan to head to my neighbors Tare to help minimize my waste! They are a package-free grocery store that I will be frequenting often. Find your package-free grocery store with Litterless. Our fight to end plastic needs to really start in the beginning. Would be really cool if we could finally prioritize people and the planet before corporate greed. Let's be part of the solution together and eliminate these hazardous environments which BIPOC communities disproportionately are affected by. It's just not fair! Join the movement with me and Green Peace, sign this petition and also demand to help end corporations from using plastic once and for all!
With your help, we can lift the reusables temporary ban! According to the Guardian, the notion of plastics as a safer alternative to reusable containers is a myth perpetuated by the plastics industry. Evil right? A statement signed by 119 scientists from 18 different countries says reusable cups, bags, and containers are perfectly safe to use as long as people employ simple and basic hygiene (YAY!). Sign the ballot to end plastic waste, demand, and reshare this knowledge with your local markets, restaurants, and businesses to reduce plastic packaging.
With all that said, I'm not 100% waste-free. I'm sharing my vulnerability so that you know I'm far from perfect and am too just doing all that I can to stay sane, safe, and show up (6ft away) for my fellow small biz owners, employees, family, and friends. Let's be safe and get through 2020 together. Is it over yet?!
Thanks for always lifting us up and supporting whimsy, every penny spent helps our mission to make sustainable clothing more accessible and steps closer to all living a more sustainable lifestyle. We are here for you, feel free to message us and let us know what more we can do together to save our planet and be less trashy. 
Peace & Love,
Rach
Read More
Whimsy Weddings: Rachel + Steven
Our girl got married!!!  By girl, I mean — founder of Whimsy + Row, Eco-Warrior and amazing friend, @MamaRaich. It's safe to say this was the Whimsy-est Wedding there ever was!Rachel + Steven got married in Northern...
Read Me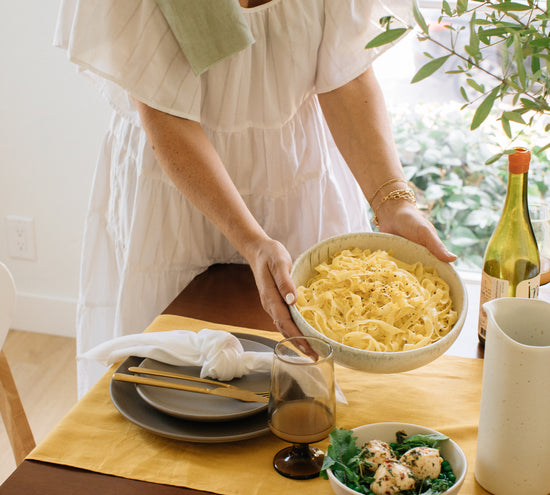 Recipe: Pasta Al Limone
If you think we launched a Home Collection, just so we could get together, eat pasta and take pictures, you're not totally wrong. (LOL!) The truth is — it was our our Junior Designer & Production Coordinator...
Read Me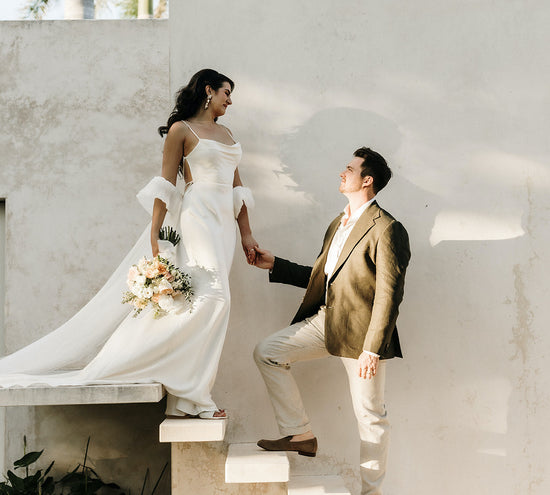 Whimsy Weddings: Sarah + Isaac
We all gasped when we saw pictures of Sarah + Isaac's Yucatán wedding on instagram. Nothing gets our team more excited than a Whimsy Bride!  Lucky for us, we reached out, and Sarah was kind enough to...
Read Me