At home with Vicky Nonnon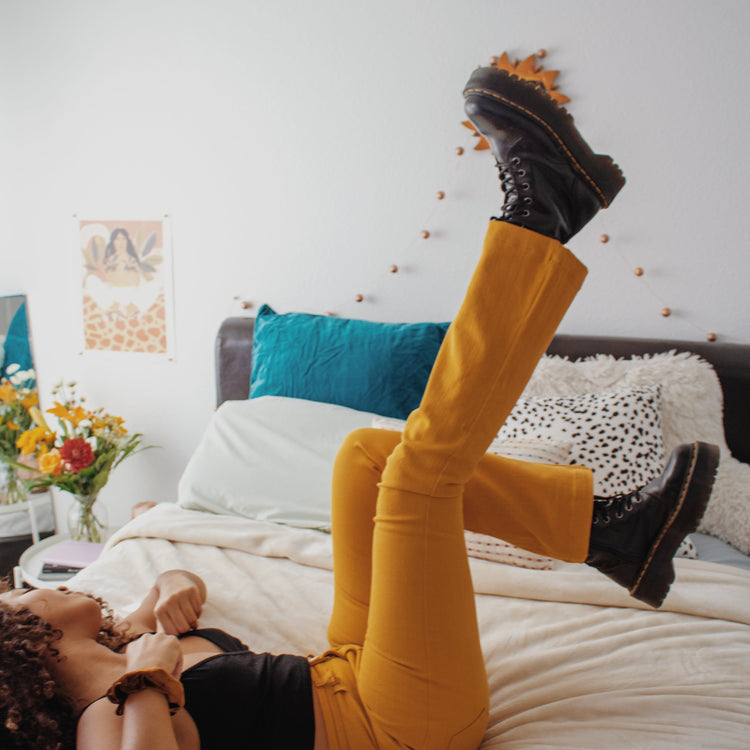 Meet Vicky (aka @vivky.nonnon)— a colorful freelance content creator with a taste for Golde Matcha Lattes and conscious sustainable living. She carries herself with the brightest vibrant energy, reading through her interview is sure to light up your day. So do yourself a favor, and froth up a yummy Turmeric latte, and scroll through our interview with Vicky. Click here or any image to shop her looks. Cheers! 
What do you like to do for fun? 
Can I say learning TikTok dances...they're honestly really fun to do and end up being a workout in the end! I also got really into painting during quarantine and I absolutely LOVE to cook and bake, it's a great stress reliever and it's so much fun to experiment! Last but not least I'm an avid Netflix viewer and I finished Schitts Creek recently and it truly is one of my favorites. Fun during a pandemic has been very different, but it's been interesting finding things that bring me joy!
What's something you've learned about yourself in 2020?
2020 has been a whirlwind for sure. It's definitely taught me to slow down and appreciate who and what I have in my life right now. I recently graduated earlier this year so that part of quarantine was really challenging trying to figure out what my next steps were, but I'm super grateful to have been able to move back home and connect with my family a lot more. I realized that staying connected in some way has been super important for me and has kept me sane haha. Even staying connected with myself, by finding little moments of joy. These are moments where I find time and space to journal, move my body, find a creative outlet and even just dance in my room! 
How has your style changed this year or not? 
This year in particular I've been experimenting with lots of color! I was always intimidated to purchase items that weren't "easy" to mix and match, but I've realized I can also do that but with colorful pieces! Also let's not forget the wave of athleisure and comfy clothing. Working from home means I get to be comfy and wear what I want! That's definitely a staple style change this year.
What's your go-to Golde drink recipe? 
Oo that's hard, but I'd say top 2 would be a delicious iced matcha latte with oat or almond milk! Second one would be a warm cup of golden milk using their original turmeric superfood latte blend! That was the first product I tried from them and it never disappoints!
What's your favorite meal to make/or eat for Thanksgiving?
I have a HUGE sweet tooth so I'm a dessert kind of gal! I absolutely love a good pumpkin spice apple pie! Every year during the holiday season I spend hours in the kitchen testing and trying out new recipes (mainly desserts) and I have my family taste test them all. It's something that brings us together even when there's quite a few desert fails, it's something I look forward to.
Three tips for living more sustainably?
REUSE! Reusable cups, reusable bags, reusable containers...etc. reusing things you already have is a great way to practice sustainability.
Quitting Fast Fashion. Learning to appreciate and hold onto clothing items! Buying second hand will always be the most sustainable option, but investing in pieces for your wardrobe can make for a more sustainable long lasting selection! 
Don't be too hard on yourself, a sustainable lifestyle is a journey and can look different for everyone plus it's super important to understand that as a consumer we can make more sustainable choices but educating others is an even more important tool!
What Whimsy pieces will you be gifting this year? 
I've definitely got my eye on the Fae Paint in Gold and the Julia Top in Cream Lady Print, they're both really fun pieces I know certain people in my life would love!
Read More
Whimsy Weddings: Rachel + Steven
Our girl got married!!!  By girl, I mean — founder of Whimsy + Row, Eco-Warrior and amazing friend, @MamaRaich. It's safe to say this was the Whimsy-est Wedding there ever was!Rachel + Steven got married in Northern...
Read Me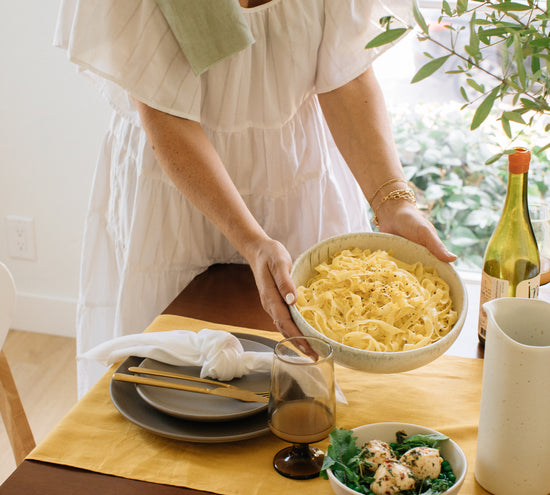 Recipe: Pasta Al Limone
If you think we launched a Home Collection, just so we could get together, eat pasta and take pictures, you're not totally wrong. (LOL!) The truth is — it was our our Junior Designer & Production Coordinator...
Read Me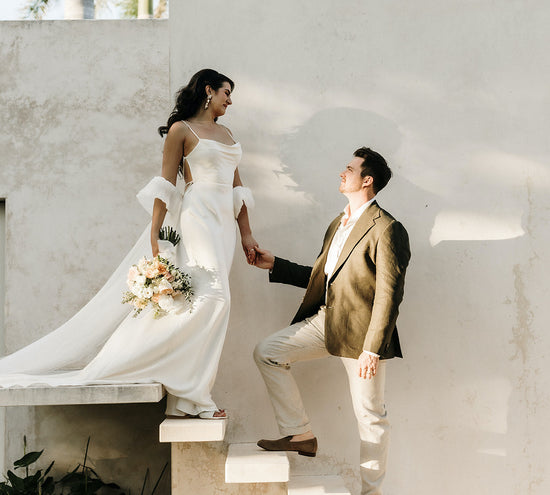 Whimsy Weddings: Sarah + Isaac
We all gasped when we saw pictures of Sarah + Isaac's Yucatán wedding on instagram. Nothing gets our team more excited than a Whimsy Bride!  Lucky for us, we reached out, and Sarah was kind enough to...
Read Me