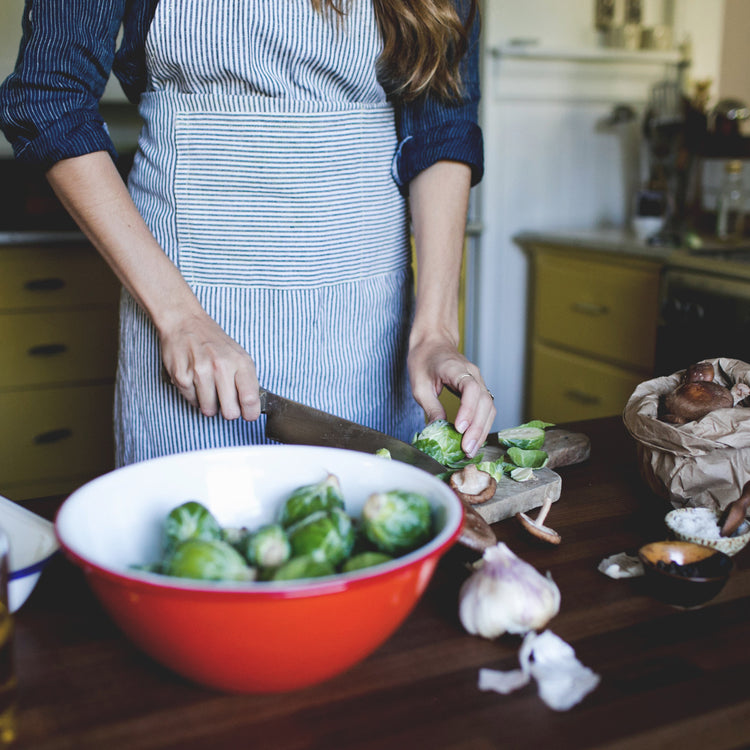 Friendsgiving is always a favorite, how could you not love scrumptious food and friendly faces. It's the best excuse to gather, be thankful and get our hands workin'. Over the years we've discovered that putting the scene together is as important as preparing the feast. This years tribute to Turkey day gives the Whimsy + Row lowdown of how to make your Friendsgiving soiree Whimsy AF.
Key Ingredients for the Table
Foliage - Take a stroll to your local flower mart or farmers market and load up! We love choosing flowers that look like they were caught in the wild. Make sure to select a variety and that well compliment the dinnerware and surrounding elements.
Dinnerware
- If you haven't already noticed, we have a thing for vintage. This table setting is a collection of antique plates, wine glasses, linens + silverware. Shop styles similar to these at our
pop-up's
this season. 
The Table
- Having a long table for everyone to sit at is essential. Scattering mix-match chairs is always the case, so go with it. We used tree trunks and white fold up chairs, anything we could find. If you don't have a farm table tucked away, placing tables together and tossing a soft table cloth over will do the trick. Find this hand stitched vintage table cloth in
store
today!
Garnishes - The simplest way to make your dishes and table look that much more special is adding color or garnish. Be creative with it, pick up some herbs, purple kale, radicchio, lemon, really anything that is incorporated in the dish and that goes well with the greenery you chose. 
The Friendsgiving Menu
Appetizer
Charcuterie Board, Cheese Plate & Assortment of Bread + Crackers
Sides
Sweets
Lemon Roasted Chicken + Thyme
Preheat the oven to 425 degrees F. 
Remove the chicken giblets. Rinse the chicken inside and out. Remove any excess fat and leftover pinfeathers and pat the outside dry. Place the chicken in a large roasting pan. Liberally salt and pepper the inside of the chicken. Stuff the cavity with the thyme, reserving enough thyme to garnish the chicken dish, 1 lemon, halved, and 2 halves of the garlic. Brush the outside of the chicken with the butter and sprinkle again with salt and pepper. Tie the legs together with kitchen string and tuck the wing tips under the body of the chicken. Cut 2 of the lemons in quarters and scatter the quarters and remaining garlic around the chicken. Lay the bacon slices over the chicken to cover.
Roast the chicken for 1 hour. Remove the bacon slices from the top of the chicken and set aside. Continue roasting the chicken for an additional 1/2 hour, or until the juices run clear when you cut between a leg and thigh. Remove to a platter and cover with aluminum foil while you prepare the gravy.
Remove all but 2 tablespoons of the fat from the bottom of the pan. Add the wine and chicken stock and bring it to a boil. Reduce the heat, and simmer for 5 minutes, or until reduced by half. 
Slice the chicken on a platter. Garnish the chicken platter with the bacon slices, roasted garlic, reserved thyme and 1 lemon, sliced. Serve with the gravy. 
1 (5 to 6-pound) roasting chicken

Kosher salt

Freshly ground black pepper

1 large bunch fresh thyme

4 lemons

3 heads garlic, cut in 1/2 crosswise

2 tablespoons butter, melted

1/2 pound sliced bacon

1 cup white wine

1/2 cup chicken stock
Total Time: 
1 hr 55 min |
Prep: 
20 min |
Cook: 
1 hr 35 min | 
Yield : 3 to 4 servings
Roasted Brussel Sprouts with Shallots + Wild Mushrooms
Put oven rack in upper third of oven and preheat oven to 450°F. Toss Brussels sprouts with oil, garlic, salt, and pepper, then spread out in 1 layer in 2 large shallow baking pans (17 by 12 inches). Roast, stirring occasionally and switching position of pans halfway through roasting, until tender and browned, 25 to 35 minutes.
Fry shallots while brussels sprouts roast: Heat oil in a 10-inch heavy skillet over moderate heat until temperature measures 250°F (see cooks' note, below), then fry shallots in 3 batches, stirring occasionally, until golden brown, 3 to 5 minutes per batch (watch closely, as shallots can burn easily). Quickly transfer with a slotted spoon to paper towels to drain, spreading in a single layer. (Shallots will crisp as they cool.) Pour off oil from skillet (do not clean).
Sauté mushrooms and assemble dish: Heat 5 tablespoons butter in skillet over moderately high heat until foam subsides, then sauté mushrooms, stirring occasionally, until golden brown and tender, about 7 minutes. Add wine, thyme, salt, and pepper and boil, uncovered, stirring occasionally, until liquid is reduced to a glaze, about 2 minutes. Add water (1/2 cup) and remaining tablespoon butter and simmer, swirling skillet, until butter is melted. Transfer to a serving dish and stir in Brussels sprouts. Sprinkle with some of shallots and serve with remaining shallots on the side.
Cooks' notes:
To take the temperature of a shallow amount of oil, put bulb in skillet and turn thermometer facedown, resting other end against rim of skillet. Check temperature frequently.

Shallots can be fried 1 day ahead and cooled completely, uncovered, then kept in an airtight container lined with paper towels at room temperature.

Brussels sprouts can be roasted 5 hours ahead and cooled completely, uncovered, then kept, loosely covered, at room temperature.

Mushrooms can be sautéed 1 hour ahead and kept in skillet, partially covered. Reheat Brussels sprouts in a preheated 400°F oven and proceed with recipe.
Here's what you'll need...
3 lb Brussels sprouts, trimmed and halved lengthwise

1/4 cup olive oil

1/2 tablespoon minced garlic

1 teaspoon salt

1 cup vegetable oil

1/2 lb large shallots (about 6), cut crosswise into 1/8-inch-thick slices and separated into rings (2 1/2 cups)

3/4 stick (6 tablespoons) unsalted butter

1 1/4 lb mixed fresh wild mushrooms such as chanterelle and oyster, trimmed, quartered if large

1/4 cup dry white wine

1 tablespoon chopped fresh thyme

1/2 teaspoon salt

1/4 teaspoon black pepper

1/2 cup water

Special equipment: a deep-fat thermometer
Yeild : 12 servings | Active Time: 45 min | Total Time: 1 1/4 hr
Recipe by : Epicurious

Roasted Beets with Thyme + Goat Cheese
Preheat the oven to 400 degrees. Place the beets on a single layer on two separate sheet trays. Drizzle with enough olive oil to coat all of the vegetables. Sprinkle generously with salt and a sprinkle of fresh thyme. Place in the oven.
Check the beets for doneness often. The exact amount of time will vary depending on your oven and the size of your cuts, but the carrots will cook faster than the beets. Beets generally take around 60 minutes. They will be lightly caramelized and tender when finished. Let cool slightly, move to serving dish and add goat cheese, sprinkle small chunks generously on top of dish.
Here's what you'll need...
Beets, peeled and cut into 1/2 inch cubes

Olive oil, to coat

Kosher salt

Fresh thyme (to taste), chopped

Goat cheese
Cooks' Notes
She highly recommend using latex gloves for peeling the beets to avoid red-stained hands
Recipe by :
Culinary Colleen
Lemony Couscous with Dried Cranberries + Pine Nuts
In a small saucepan, combine the broth, lemon juice and lemon zest. Bring to a boil. Add the olive oil, couscous, pine nuts, cranberries, and sea salt. Stir, cover, and remove from heat. Let stand 7-8 minutes. Add fresh spinach (if using), fluff with a fork and serve.
Here's what you need... 
1 cup vegetable broth

juice of 1 lemon

zest of 1 lemon

1 Tablespoon olive oil

1 cup plain couscous

1/4 cup toasted pine nuts

1/2 cup dried cranberries

sea salt to taste

1 teaspoon chopped fresh parsley (optional)

 
Yeild : 4 side servings
Recipe by:
Epicurious
HONEY MUSTARD & ROSEMARY GLAZED CARROTS
Preheat oven to 425F. Brush the carrots under running water. Cut them in half lenghtwise and place them in a large mixing bowl. In a seperate bowl, mix olive oil, garlic, rosemary, mustard, honey, salt and pepper. Mix until very well combined and pour over reserved carrots. Mix to coat evenly and spread in a single layer in a shallow baking sheet lined with parchment paper. Place in the oven and bake for 20-25 minutes, turning once or twice, until the carrots are tender and have taken a nice golden coloration. Sprinkle with fresh parsley and serve immediately.
Here's what you'll need...
About 1kg medium sized carrots

2 tbsp extra virgin olive oil

2 tbsp unpasteurized honey

1 tbsp Dijon mustard

1 tbsp fresh rosemary, finely chopped

2 cloves garlic, minced

½ tsp Himalayan or fine salt

½ tsp freshly cracked black pepper

A handful of chopped fresh parsley to garnish
Yield: Serves 6 | Serves 6
Recipe by : The Healthy Foodie
Salted Caramel + Chocolate Pecan Bars
Preheat oven to 350F. Line an 8-by-8-inch baking pan with aluminum foil, spray with cooking spray; set aside. I strongly urge lining the pan with foil for easier cleanup.
Crust - In a large bowl, combine all crust ingredients and using two forks or your hands (I find hands easier), cut butter into dry ingredients until evenly distributed and pea-sized lumps and sandy bits form. The softer the butter is, the quicker and easier it is. Turn mixture out into prepared pan and pack down firmly with a spatula or hands to create an even, uniform, flat crust layer.
Filling - Evenly sprinkle the pecans. Evenly sprinkle with the chocolate chips; set pan aside. In a large, microwave-safe bowl, combine 1/2 cup butter, brown sugar, whipping cream, and heat on high power for 1 minute to melt. Remove bowl from micro, and whisk until mixture is smooth; it's okay if butter hasn't completely melted. Return bowl to microwave and heat for 1 minute on high power. Remove bowl from micro, and whisk until mixture is smooth. Whisk in the vanilla and salt. Slowly and evenly pour the caramel sauce over the chocolate chips and pecans.
Place pan on a cookie sheet (as insurance against overflow) and bake for about 30 to 32 minutes, or until caramel is bubbling vigorously around edges, with bubbling to a lesser degree in center. Allow bars to cool in pan on a wire rack for at least 3 hours, or overnight (cover with a piece of foil and/or put pan inside large Ziplock), before slicing and serving. Bars will keep airtight at room temperature for up to 1 week, or in the freezer for up to 6 months.
Here's what you'll need...
1/2 cup unsalted butter, very soft (1 stick)

1 cup all-purpose flour

1/4 cup confectioners' sugar

1 tablespoon cornstarch

pinch salt, optional and to taste

8 ounces roasted salted pecans, halves or pieces okay; about 2 cups (I used Trader Joe's roasted salted halves)

1 cup semi-sweet chocolate chips

1/2 cup unsalted butter (1 stick)

1 cup light brown sugar, packed

1/3 cup whipping cream or heavy cream

1 tablespoon vanilla extract

1/2 teaspoon salt, or to taste
Yeild: one 8-by-8-inch pan, 9 to 12 very generous squares | Prep time: 20 mintues | Cook Time : about 30 to 32 minutes | Total Time: about 4+ hours, for cooling and setting up
Recipe by : Averie Cooks
Happy Thanksgiving Friends !!
Read More
Whimsy Weddings: Rachel + Steven
Our girl got married!!!  By girl, I mean — founder of Whimsy + Row, Eco-Warrior and amazing friend, @MamaRaich. It's safe to say this was the Whimsy-est Wedding there ever was!Rachel + Steven got married in Northern...
Read Me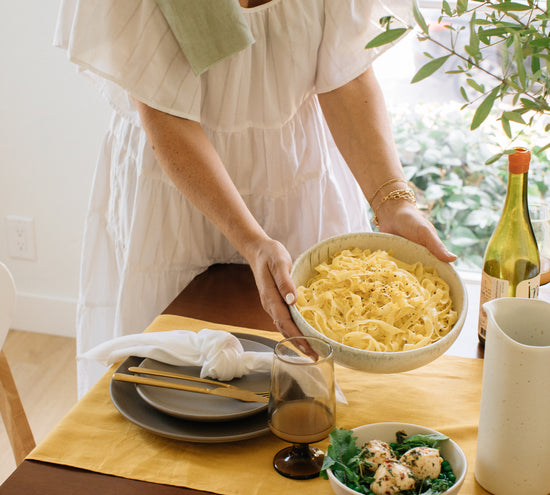 Recipe: Pasta Al Limone
If you think we launched a Home Collection, just so we could get together, eat pasta and take pictures, you're not totally wrong. (LOL!) The truth is — it was our our Junior Designer & Production Coordinator...
Read Me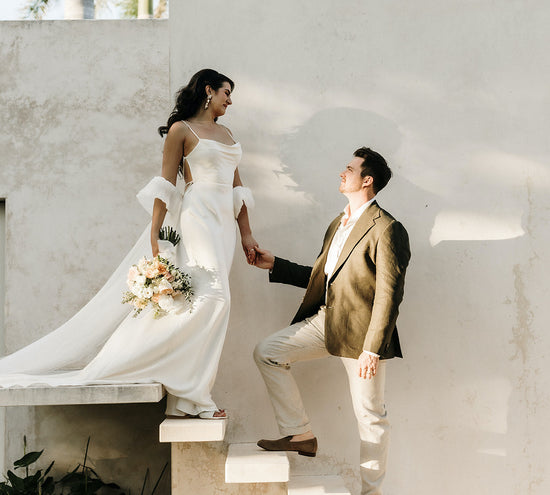 Whimsy Weddings: Sarah + Isaac
We all gasped when we saw pictures of Sarah + Isaac's Yucatán wedding on instagram. Nothing gets our team more excited than a Whimsy Bride!  Lucky for us, we reached out, and Sarah was kind enough to...
Read Me