10 Tips and Tricks to Living Sustainably in 2022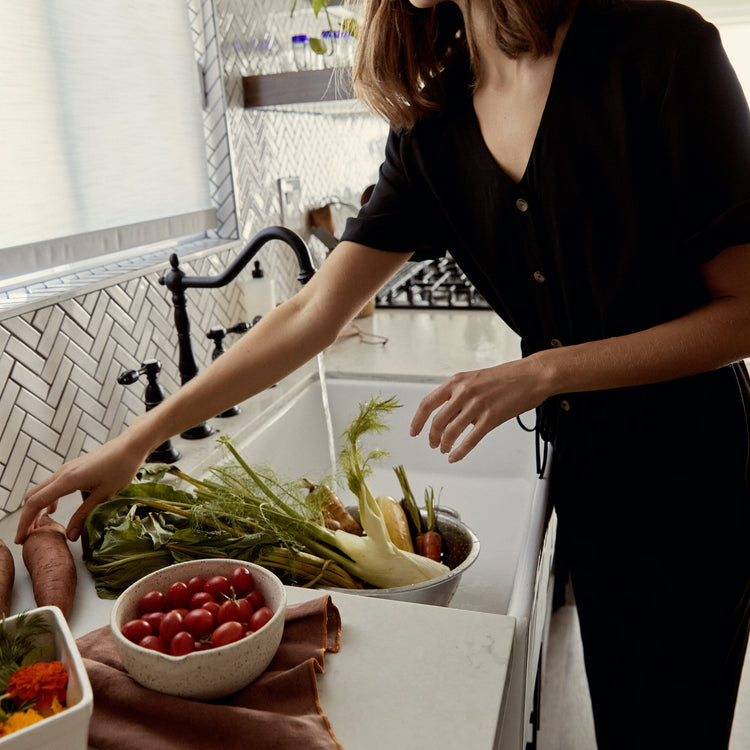 For many, New Year's resolutions are daunting and hard to keep. Living a more sustainable life in 2022 doesn't have to be. If your New Year's resolution is to live a more sustainable and environmentally friendly lifestyle, but you don't know where to start, keep scrolling. Here at Whimsy, we are passionate about incorporating sustainability into our daily lives and business. We've compiled some of our favorite tips and tricks to make your 2022 a little more sustainable.
1. Start with the basics. As in clothing. Whether you thrift them or buy new, invest in quality pieces that never go out of style and will last you for years to come. Longevity is the key to a sustainable wardrobe. Our Denim Jordan Jacket is a great example of a wardrobe staple that transitions well throughout the seasons and trend cycles.
2. Wash it sustainably. There are many ways to make laundry day better for you and our planet. Following the care instructions on your garment's tags is a great way to ensure your favorite pieces last (and don't shrink!) And for those more delicate pieces, eco-dry cleaning or hand washing is the way to go. We also love using a GUPPYFRIEND garment bag on wash day. Did you know washing clothing made of synthetic materials releases countless amounts of harmful micro-fibers into our oceans, rivers, and streams? The GUPPYFRIEND catches these micro-fibers, preventing them from entering our water systems and causing harm to our fish friends.
3. Mend your clothing. Have an unwearable pair of pants because the button popped off? Ever wonder what to do with that blouse you used to love but haven't touched in months because the seam split? Consider learning how to mend them! Knowing simple stitches or how to sew a button back on will lengthen the lifespan of your favorite clothes.
4. Borrow from a friend. For the eco-gals on a budget, sharing wardrobes with a trusted friend is a chic way to stay stylish while keeping your purchases to a minimum. Whether you have a fancy event to go to, need to get something together for a costume party, or need something to pull an outfit together, sharing a wardrobe can help you (and your friend!) get ready for the special events in your life. (Pro tip: make sure you take care of your friend's pieces as if they were your own!)
5. Go organic. We all know and love organic produce, but did you know cotton can be organic too? Like produce, organic cotton is grown without pesticides, synthetic fertilizers, and other pollutants that are harmful to the environment. If and when you choose to buy new, shop consciously and look for garments made with organic cotton. Your wardrobe and environment will thank you. Shop our Organic Denim + Organic Knit collections. 
6. Shop at farmer's markets. Spend your weekends off stocking up on your favorite produce at your local farmer's market. By shopping at farmer's markets, you directly support local farms while also helping the environment. The foods sold at farmer's markets are grown locally—meaning the food has traveled significantly less than many conventionally sourced produce. And fewer miles traveled = fewer carbon emissions. 
7. Use a reusable tote. And carry it wherever you go! You never know when you'll need an extra bag when you're out sifting through your favorite thrift store or strolling through your neighborhood farmer's market. Bonus points if they're made out of recycled plastic bottles, like the Junes Everyday Bag.
8. Carry a reusable water bottle and travel mug. For the eco-gal on the go, keeping a reusable water bottle is an easy way to reduce your amount of plastic waste. Stainless steel bottles keep your water cold for hours, and glass bottles like the W&P Porter Bottle make staying hydrated look chic. Bringing a reusable travel mug along with you to your favorite cafe is also a great way to reduce waste, and many cafes offer a discount when you bring in your own mug!
9. Wear reusable masks. Keep yourself safe and the planet happy by wearing reusable face masks. Instead of filling up our landfills with disposable masks, invest in a few (or more!) reusable cloth masks that you can wash and re-wear. Did you know that we make our Silky Masks out of the leftover material of our bridesmaid dresses?
10. Sustainable wrapping supplies. Gift-giving happens year-round, not just during the holidays! Although most wrapping paper is recyclable, most of it will likely end up in the landfill. Opt into reusing newspapers, magazines, or even large bandanas for all your gifting needs. Our recycled square bandanas are a great gift that doubles as gift wrap. 
Thanks for reading! We hope this gives you some inspiration to tackle your eco-goals this year! Written by Brianna Cockett-Mamiya
Read More
Whimsy Weddings: Rachel + Steven
Our girl got married!!!  By girl, I mean — founder of Whimsy + Row, Eco-Warrior and amazing friend, @MamaRaich. It's safe to say this was the Whimsy-est Wedding there ever was!Rachel + Steven got married in Northern...
Read Me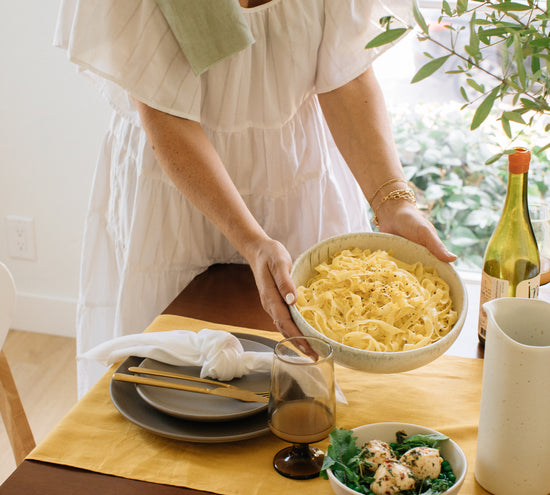 Recipe: Pasta Al Limone
If you think we launched a Home Collection, just so we could get together, eat pasta and take pictures, you're not totally wrong. (LOL!) The truth is — it was our our Junior Designer & Production Coordinator...
Read Me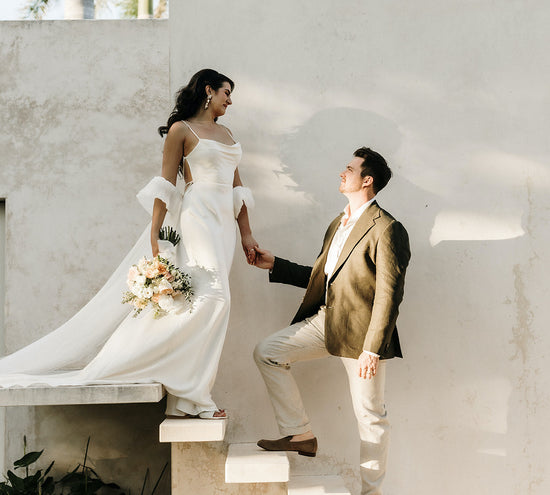 Whimsy Weddings: Sarah + Isaac
We all gasped when we saw pictures of Sarah + Isaac's Yucatán wedding on instagram. Nothing gets our team more excited than a Whimsy Bride!  Lucky for us, we reached out, and Sarah was kind enough to...
Read Me