Meet Natalia — Our Design + Production Assistant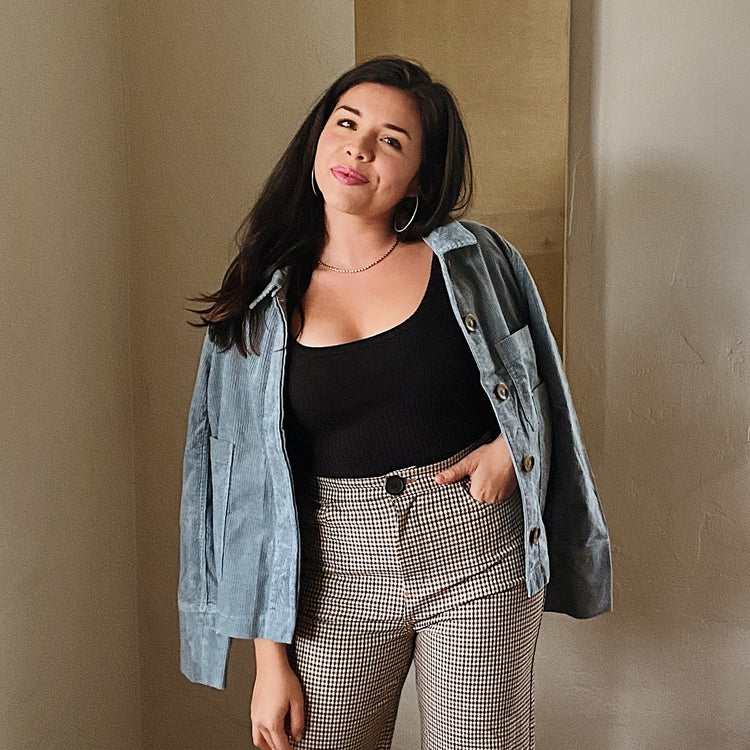 There is so much that goes into making clothes — from design and development, to sourcing fabric, making samples, testing dye colors, fit sessions, all before one garment even gets put into production. As you can imagine, it requires a lot of driving around LA to different pattern makers, sewers and vendors, and a lot of detailed spreadsheets (and MATH!). We are so lucky to have a bad-ass go-getter like Natalia on our team helping us get it all done, and done right!  Whimsy would not be making clothes without her. Natalia is a vital behind the scenes gal, but her pup, Paco, on the other hand is definitely customer facing. Scroll on down to meet them both. 

Don't feel like reading? That's okay. Shop Natalia's favorite Whimsy pieces here or by clicking any photo.
Where are you from and what inspired you to work in the fashion industry?
I was born in Colombia, South America and raised in Nashville, TN. I went to college in Chicago and I've been living in LA for a little over a year now. I've been an artistic person ever since I was little, so I always knew I would end up in a creative field. I was inspired to work in the fashion industry because I love how clothing gives people the ability to express themselves! I love designing and developing clothing and the endless possibilities in creating clothing. 
 What attracted you to work at Whimsy + Row and what has your journey been like?
I was first attracted  to Whimsy because of its mission to be eco-friendly. I remember getting so excited when I saw the Valentina Top on Whimsy website because I am obsessed with reversible pieces, and it shows true understanding of sustainable design!  I was eager to work for a place that aligned with my sustainability principles and was so stoked when I found Whimsy after moving to LA. Working for Whimsy has been a dream come true!  I get to work with bad ass people, making beautiful high quality pieces that aren't harming our planet or its people. I get excited every day to be a part of a team that is caring and supportive while also being driven and motivated to get stuff done! 
 What does a typical day look like for you?
Every day at Whimsy looks different. Some days, I am driving all over Los Angeles visiting our fabric warehouses, sewing contractors and suppliers. Other days, I work from home or from our design studio on upcoming collections and spreadsheets. I love that every day is different, I never get bored working at Whimsy and Row :) 
 What is the most rewarding part of your job?
There are a lot of rewarding aspects to my job but getting to meet and connect with our vendors has got to be one of my favorite parts.. Each vendor has a unique story, and background and I love getting to know each one and their teams. Every single one of our contractors are a crucial part of our team and getting to connect with them every week makes me appreciate their work so much more. 
What are your favorite Whimsy pieces?
So hard to choose but my top 3 would be the Valentina top, Lauren top, and Kate Dress. I love these three because they are *reversible* and I can style them in so many ways!
Shop Natalia's faves here. 
Who's your favorite vendor we work with and why? 
I can't pick a favorite, they are all great in their own way.. Someone I enjoy working with is Adelfo- who sews most of our silky Mojito fabric styles. He does beautiful work and he is excellent at communicating with us. Working with Adelfo makes making Whimsy clothing a breeze!
Who is Paco?! 
Paco is my furry guardian angel!! He is a Chihuahua-Terrier Mix, is about to be 7 months old, and he's the smallest member of the Whimsy team! I got him back in May and he goes to work with me almost every day :) All of our contractors know him and ask for him when I come by. He loves playing with Remy and Rudy and loves to greet our customers at the Whimsy Store. 
Can you give us any sneak peeks? Tell us about your favorite Whimsy piece that isn't out yet…
We are so excited to share the SS22 with you so I don't want to give too much away but get ready for adorable, flirty styles to take you from spring to summer next year.  
I'm obsessed with the all our new prints for spring but especially our *groovy* take on the classic checkerboard. One of my favorite styles is the Rory dress- a breezy white cotton dress with that's equal parts adorable and effortless..
We hope you've been enjoying getting to know our team! Special thanks to Natalia for taking the time. Don't forget to check out her favorites here. Cheers!
Read More
Whimsy Weddings: Rachel + Steven
Our girl got married!!!  By girl, I mean — founder of Whimsy + Row, Eco-Warrior and amazing friend, @MamaRaich. It's safe to say this was the Whimsy-est Wedding there ever was!Rachel + Steven got married in Northern...
Read Me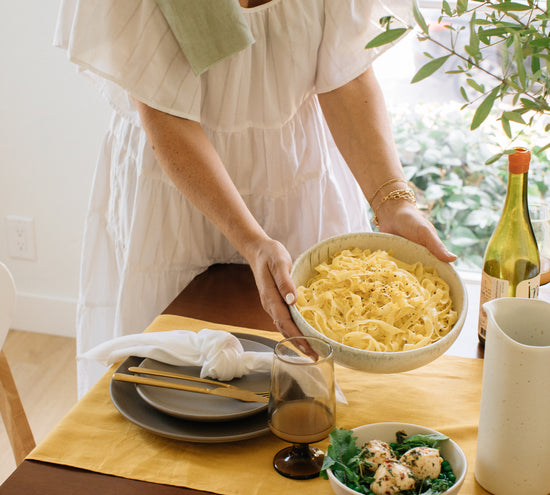 Recipe: Pasta Al Limone
If you think we launched a Home Collection, just so we could get together, eat pasta and take pictures, you're not totally wrong. (LOL!) The truth is — it was our our Junior Designer & Production Coordinator...
Read Me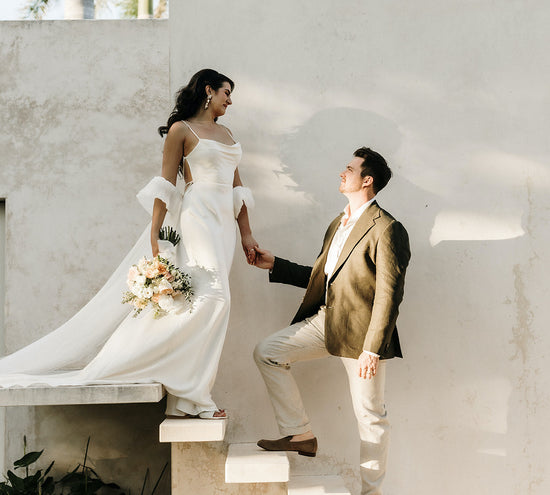 Whimsy Weddings: Sarah + Isaac
We all gasped when we saw pictures of Sarah + Isaac's Yucatán wedding on instagram. Nothing gets our team more excited than a Whimsy Bride!  Lucky for us, we reached out, and Sarah was kind enough to...
Read Me