Maker Spotlight : Mariana of Easy to Breathe Ceramics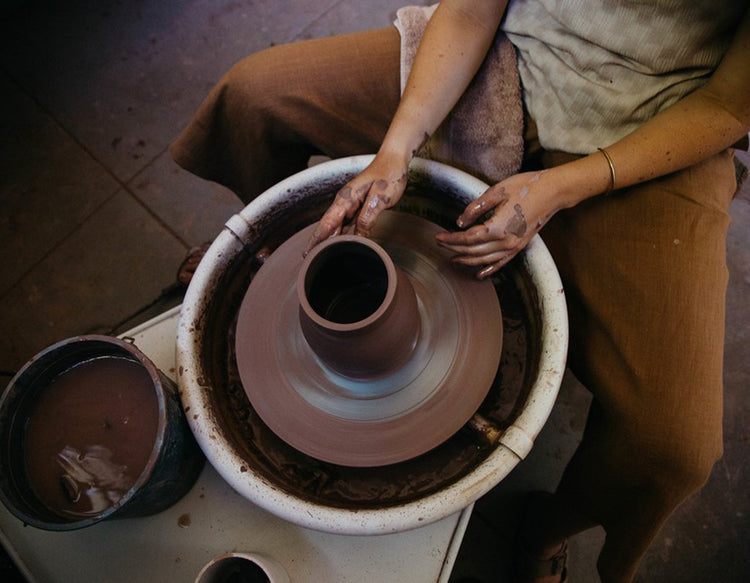 Based in sunny Ojai, Mariana of Easy to Breathe creates small batch ceramics in her home studio. We took to the road and visited her to get a closer look at her process, and collaborated to create the Whimsy x ETB homeware series of our dreams. Drawing inspiration from yoga and earth elements, we asked Mariana some questions to get to know her and the brand a bit better.
W+R: Where did you grow up?
Mexico is my native home. My roots lie deep in the suburbs of Coyoacan in Mexico City, where cobble stone streets meet vibrant architecture and urban flora. At age 4, my family and I moved to the states and landed in Miami Florida, where the Atlantic Ocean quickly became home. Palm trees, salt water, warmth and diversity raised me through youthful years of exploration. Years later, I moved to Texas where the country is wild, raw and graceful. I adapted to a whole new culture away from the ocean and grew to love the open land, far distances, ranch life and bbq.
W+R: What originally drew you to creating ceramics? / How did you initially get into the craft?
I remember when I started learning English, I felt like there was something missing.. it was tough to translate thought into spoken or written form. I always itched for the creative side of language, a visual interpretation. Art became an outlet for me at a young age when I begged my mom to take me out of school to go to art classes. That's when I played with clay for the first time. Through sculpting I found the missing piece between expression and understanding. I knew this medium had a way of molding language that made sense to me. It wasn't until moving to LA that I re-kindled my love for ceramics and began diving deeper into the craft.
W+R: You just moved to Ojai, does the town you live in influence the pieces you create?
More than I ever imagined. Ojai thrives on creative energy that's transparent and contagious wherever you are, via whoever you meet. The Topa Topa mountains peak over my backyard and continuously humble me in all it's majestic glory. The creeks they nourish, the hot springs they heal, the sunshine here soothes my soul. The mountains dark, red soil takes my breath away and grounds it deeply. I find myself connecting with a new stretch of land where inspiration flows like wind. The pieces I've created here embody a sense of this spirit. Every day my toes sink into mud and clay runs through my fingers, I feel grateful for Mother Earth's precious gifts. My work has become a sacred ritual, my creative process a spiritual practice and each piece an object with a soulful story.
W+R: How have your travels influenced your craft?
Travel is the sweetest medicine. It's hard for me to stay put in one place for a while when I know there's magic out there waiting to be explored. From Mexico to Southeast Asia, to the desert of Utah and endlessly beautiful California. Every place leaves a mark and expands my perception of self-expression and creativity. Through color, shape, texture, smell, sound, taste, discomfort and unfamiliarity. How we connect with our environment mirrors how we take care of ourselves, our planet and our community.
W+R: Tell us about your creative process. How do you start on a piece? What is your favorite part about the process?
Ceramics has quite a process. Each piece has its own beginning depending if it's wheel-thrown or hand-built. Ideas are sometimes birthed before and sometimes flow with an intention along the way. Wheel-throwing is a commitment to centering yourself and practicing patience. You'll be rewarded with a symmetrical and functional piece. I've always been drawn to hand-building as I'm a wabi sabi kind of gal. For me, completely forming a piece by hand with freedom to create, bonded with perfect imperfections truly gives value to handmade and in return feeds my soul.
W+R: When you are not in your studio working, what do you spend your time doing?
Since I'm in my studio most of the time, I cherish any chance I get out in nature. Re-energizing my batteries with sunshine is my favorite remedy. Mama Earth is my go to, always. A short hike or backpacking adventure fills my fix, just like a sweet soak in the springs or mountaintop meditation. A healthy dose of live music is my jam, too. I'm starting to work at a local farm and excited to immerse more in the community. When I'm not outdoors, I'm usually nesting at home, brewing up a new recipe, diving into a book, playing the piano or dreaming up new projects.
W+R: It's impressive how you have grown your ceramic career so quickly in one year, do you have any tips for other small business owners?
Time is always dancing! It's crazy to reflect on the past year and recognize every lesson and blessing. Sometimes I ask myself how I do what I do or where I learned to do it, and truly all I can say is to follow your own calling, your inner compass, your intuition. It's easy to get lost in this ocean we find ourselves swimming in. Sometimes we try to stay afloat to pay the bills, and sometimes we catch that perfect wave and everything feels in it's right place. It's all about momentum and consistency. The logistics of running a business is something I've picked up from experience. Start slow to genuinely build your vision and brand. Seek community, we're all on the same or very similar boat. Explore your boundaries and maybe just maybe challenge yourself. Continue riding the waves ~ the ups and the downs, every motion nurtures, teaches, humbles, and guides you to the next blessing.
W+R: What are next steps for Easy to Breathe?
At the moment, I'm preparing to start teaching classes and workshops at my studio in Ojai and am so stoked to share this new series of Easy To Breathe. This Summer, I'll be offering kid's classes, private lessons, women's circles and weekend workshops, each one focusing on ancient practices through clay therapy, a healing art form driven from within. I've also been feeling pulled to explore the world of primitive pottery, harvesting my own clay, mixing natural glazes and firing in a hand-built kiln. Back to the basics, sustainability and sacred devotion to clay.
A big thank you to Mariana for letting us into her world and answering our questions! Visit
Easy to Breathe
to check out more of Mariana's work, and shop
Homestead
to see the full Whimsy x Easy to Breathe collaboration. Also thank you to
Michelle Terris
for driving to Ojai with us in the heat and taking all these lovely images!
Read More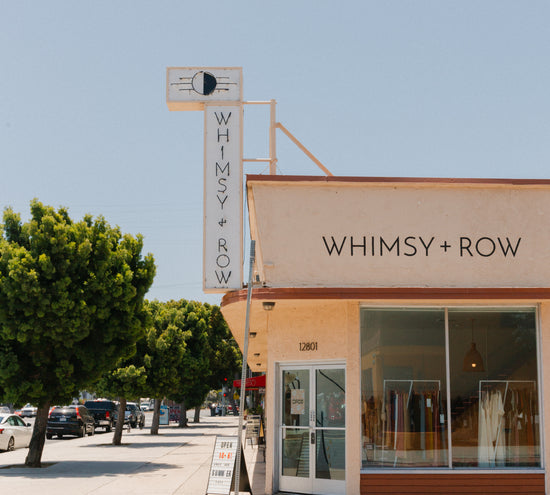 Small Biz Saturday Deals
In the spirit of Small Business Saturday, we've partnered with some of our favorite small brands to give you access to a special deal on their products. Shop small + support someone's dreams!       ...
Read Me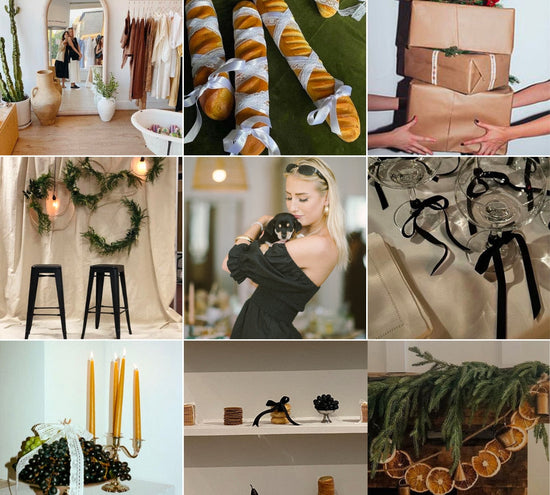 You're Invited! Annual Holiday Party
  Join us at the shop for our annual Holiday Party + dog adoption extravaganza! We are thrilled to be hosting Rover's Retreat. Holiday drinks will be flowing, vinyl will be spinning, and of course clothes and...
Read Me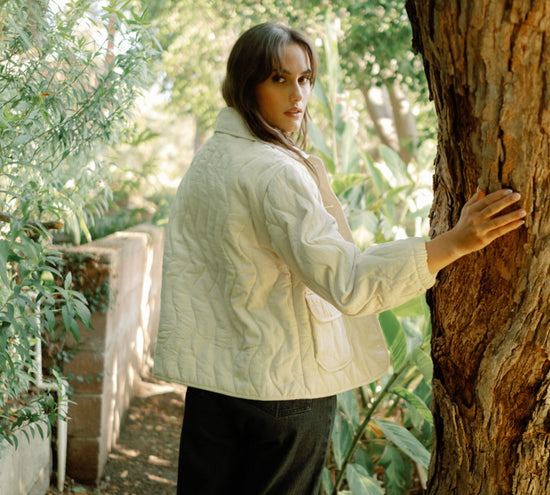 Lookbook: In The Yard
For cool crisp mornings,  foraging + long walks in the woods — discover our collection of Organic Cotton, quilted coats + sturdy denim to adventure in. Tap any image to shop, or view the whole collection...
Read Me